:: home

:: books

:: gallery

:: data

:: blog

:: kids

:: shop

:: bio

:: help

:: contact

:: ChrisKridler.com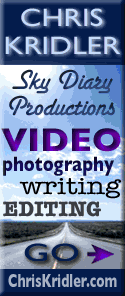 Words/images COPYRIGHT © 2020 by Chris Kridler. All rights reserved. Do not use Sky Diary photos on other Web sites. Personal use as computer wallpaper is permitted, but do not distribute photos. Write for information about purchasing video, photographs or articles. | Frequently asked questions

storm gallery: 2007
Here are some images from the 2007 storm chase.


February: A Space Coast rainbow and a notable hailstorm

March 3-4: Storm chaser party in the Florida Keys

May 4: Pretty Oklahoma storms on a sad day

May 5: Lots of storms and near misses

May 6: Lines of dramatic storms in Oklahoma, a Route 66 treasure and lightning

May 7: A good, old-fashioned Texas bust

May 8: Chasing a squall line in Texas ... and wildflowers

May 9: Tornado-warned storm in Texas

June 10-11: Gust fronts and lightning in Florida

July 7: Beautiful layered shelf cloud and lightning storms in Florida

July 11: A busy night for lightning on Florida's Space Coast

July 14: Colliding shelf clouds and a funnel cloud in Florida

July 15: A shelf cloud, intense daytime lightning, a rainbow and a fiery sunset in Florida

July 22: Pretty but minor storms in Florida's tropical prairie

July 24: Beautiful lightning crawlers in central Florida

August 24: Amazing lightning off Cocoa Beach, Florida



Read the diary from this year's Plains chase

Spotted in Cocoa Beach, Florida: The Tropical Storm Taxi. Does it take you to them, or away?