:: home

:: books

:: gallery

:: data

:: blog

:: kids

:: shop

:: bio

:: help

:: contact

:: ChrisKridler.com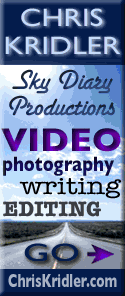 Words/images COPYRIGHT © 2021 by Chris Kridler. All rights reserved. Do not use Sky Diary photos on other Web sites. Personal use as computer wallpaper is permitted, but do not distribute photos. Write for information about purchasing video, photographs or articles. | Frequently asked questions

storm gallery: May 12, 2004
To see a larger version of a photo, just click on its thumbnail image below. Then, to get back to this page, hit the "back" button on your browser.
After the bust of May 11, with its unfulfilled tornado watch, May 12 showed a lot of potential. And boy, did it pay off. We targeted an area east of Meade, Kansas. Dave Lewison and I zoomed toward a storm that just exploded on the front/dryline, along with Scott McPartland and Pete Ventre; and Mark Robinson, David Sills and Sarah Scriver. This is the tornado produced by a storm just south of it. It became our storm of the day. Jason Politte did some great nowcasting for us. Digital video and still images.
On the eastern edge of Attica, Kansas, we saw this tornado go from dust to monster in a few minutes. Mark's party had fallen behind, so it was Dave and I leading the way, with Scott and Pete close behind, in our separate cars. We were very, very close and had to scoot out of its way. Images from video. | See the great map constructed by Dave Lewison of our sightings east of Attica.
The same tornado crossed the road and demolished a house, less than a mile from us. It was rated F2, per the National Weather Service.

The tornado continued to spin north of the road. The second image is a marriage of two video grabs. We were so close, we couldn't get the whole tube in one frame. Images from video.
We continued east on 160, dodging baseball-size hailstones, and caught this beautiful tornado. We were just north of the mesocyclone. Images from video.
Unfortunately, the meso had other ideas and dropped a satellite vortex on the road in front of us, and then another behind it. Once it appeared the way was clear, we got out of there. Images from video.
Here's a shot looking back southwest at the storm with its beautifully formed meso and tornado. We still had to navigate out of the hail and out of the tornadoes' path, seeing this burning tree (perhaps caused by the intense lightning?) on the way. We photographed lightning from a safe distance and later met up with Mark's party. Images from digital video.




Diary from this year's chase | 2004 reports and photos





go to the main gallery page | go to storm chasers
go to reports from 2004, 2003, 2002, 2001, 2000, 1999, 1998, 1997