:: home

:: books

:: gallery

:: data

:: blog

:: kids

:: shop

:: bio

:: help

:: contact

:: ChrisKridler.com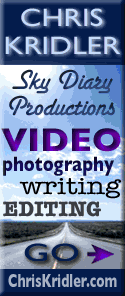 Words/images COPYRIGHT © 2021 by Chris Kridler. All rights reserved. Do not use Sky Diary photos on other Web sites. Personal use as computer wallpaper is permitted, but do not distribute photos. Write for information about purchasing video, photographs or articles. | Frequently asked questions

storm gallery: July 23 & 25, 2002: triggered lightning
To see a larger version of a photo, just click on its thumbnail image below. Then, to get back to this page, hit the "back" button on your browser.
See a video of triggered lightning!
At Camp Blanding, Florida, the University of Florida has a lightning research facility. There, triggered lightning is used in a variety of experiments. Small rockets are launched from tubes at the top of a tower during a storm, building up positive charge as they zoom upward and attract lightning. A trailing copper-Kevlar wire guides lightning to the ground. The wire is vaporized and return strokes resemble natural lightning enough to be used for research. Images from video.
| | |
| --- | --- |
| My visit on July 23 on an assignment for my newspaper produced no storms, so lightning couldn't be triggered. Two days later, a good storm came over the site. This is natural lightning, before triggering began. Image from video. | When the negative electric field reaches the right strength, the guys in the launch trailer next to the tower press the fire button. Image from video. |
Here's a succession of bolts after the rocket is launched. Note that the first bolt goes below the tower as it vaporizes the wire. The rest are return strokes. Image from video.
Links to 2002 chase reports:
go to the main gallery page | go to storm chasers
go to reports from 2002, 2001, 2000, 1999, 1998, 1997