:: home

:: books

:: gallery

:: data

:: blog

:: kids

:: shop

:: bio

:: help

:: contact

:: ChrisKridler.com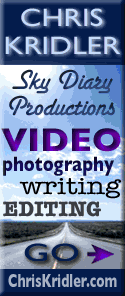 Words/images COPYRIGHT © 2021 by Chris Kridler. All rights reserved. Do not use Sky Diary photos on other Web sites. Personal use as computer wallpaper is permitted, but do not distribute photos. Write for information about purchasing video, photographs or articles. | Frequently asked questions

storm gallery: May 30, 2001
To see a larger version of a photo, just click on its thumbnail image below. Then, to get back to this page, hit the "back" button on your browser.
| | |
| --- | --- |
| Dave Lewison and I met up with Arkansas chasers Scott Blair and Jason Politte in Amarillo, Texas, on May 30. We'd all decided to play the slight risk on the upslope in New Mexico rather than what would likely be non-tornadic storms in Oklahoma, and about 1:30 p.m., this big storm went up in northeast New Mexico as we headed west. Image from video. | We caught up with it around Mosquero and watched it begin to get organized. Image from video. |
| | |
| --- | --- |
| The storm looked as if it had cyclonic circulation at the mid-levels and anti-cyclonic circulation below. Image from video. | Here it is, getting a little better organized. Image from video. |
| | |
| --- | --- |
| As the storm - and we - came off the mountain, it really seemed to gain strength. Image from video. | But wait - was it gusting out? It sure looked like it. Note the white area, where big hail was falling. Image from slide. |
| | |
| --- | --- |
| When we got farther south, we realized the storm was reorganizing. It even had a wall cloud. As we pursued it, these lovely mammatus clouds filled the sky. Image from video. | The storm worked on assuming a round shape. Image from slide. |
| | |
| --- | --- |
| It got rounder and quickly formed cyclic mesos that were subsequently wrapped with hail and rain. Image from video. | We had to backtrack, then get on a road that led to I-40 going east to try to get ahead of it. While we did, rear-flank downdrafts kept cutting in. Image from video. |
| | |
| --- | --- |
| This was our last view before disaster hit. We were sure we were going to get ahead of the storm, but it was moving much faster than weather radio indicated or we thought. Hail was wrapping quickly around the area of circulation. Scott found out later that the Cannon Air Force Base radar showed a sustained base reflectivity from 73 to 78 dbz for an hour. Image from video. | Bam! The first baseball hailstones put irredeemable cracks in the windshield. We had no choice but to pull over. All three of our cars then were barraged with large, horizontally blowing hail for about 10 minutes. Image from video. |
| | |
| --- | --- |
| The hail, which averaged the size of golf balls but included a few baseballs at the beginning, covered the ground like snow. Image from video. | We won't soon forget Texas' Mile 6 on I-40. Image from video. |
| | |
| --- | --- |
| All of our cars suffered damage. Here's a dent where a hailstone peeled off the paint. Image from video. | Taillights were completely blown out. Image from video. |
Probably 15 minutes after the barrage began - and after much melting took place - stones we picked up measured only about 1.5". West of us, 2.75" hail was reported, and we figure we got at least a few of those, considering the damage to antennas, windows, lights and car bodies. The hail was rock-hard, made of clear ice. Thanks to Warren Faidley for stopping to see if we were OK. Image from video.
Links to 2001 chase reports:
go to the main gallery page | go to storm chasers
go to reports from 2001, 2000, 1999, 1998, 1997