:: home

:: books

:: gallery

:: data

:: blog

:: kids

:: shop

:: bio

:: help

:: contact

:: ChrisKridler.com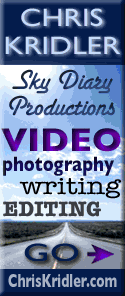 Words/images COPYRIGHT © 2021 by Chris Kridler. All rights reserved. Do not use Sky Diary photos on other Web sites. Personal use as computer wallpaper is permitted, but do not distribute photos. Write for information about purchasing video, photographs or articles. | Frequently asked questions

storm gallery: May 28, 2001
To see a larger version of a photo, just click on its thumbnail image below. Then, to get back to this page, hit the "back" button on your browser.
Dave Lewison and I began May 28, 2001, in Woodward, Oklahoma, where the phones were out at the hotel because of storm damage from the night before, so we couldn't get on the Net. A quick call to Jay Antle for preliminary data had us heading west. We ran into Ed Roberts from Kansas City and other chasers in Guymon, Oklahoma, who kindly shared some data files, and in Dalhart, Texas, a nice hotel operator let us plug in for a few minutes. We headed to Clayton, New Mexico, and Philip Flory told us by phone that a good storm was going up farther northwest, near Raton, N.M. Once we got near it, the mammatus were gorgeous. Finally, we got around the mountains and over the Colorado border east of Trinidad. We watched this pretty low-precipitation storm for a while before it croaked. Image from video.




| | |
| --- | --- |
| A second LP storm formed in the same place over the mountains, then weakened. As this storm died, we decided to get closer to what looked like another updraft to the west. Image from video. | We ran into chasers Scott Blair and Jason Politte as we got into some small hail. Image from video. |
| | |
| --- | --- |
| A beautiful third storm formed in the same place. Dave called this storm factory the "mothership machine." Image from slide. | What looked very much like a funnel formed under the storm, then dissipated. Image from slide. |
| | |
| --- | --- |
| A nice wall cloud persisted with this beautiful, round storm. Image from slide. | Here's a closeup of the wall cloud. We followed the storm north and it, too, began to weaken. Image from video. |
| | |
| --- | --- |
| As another rotating storm formed behind the dying mothership, the sun set. Image from slide. | Before we knew it, a rear-flank downdraft was cutting in. Image from video. |
| | |
| --- | --- |
| A funnel formed in the dusky light. Image from video. | Here's a view of the tornado. Though we didn't see the condensation funnel quite reach the ground, a storm report put it 1 mile east of Hoehne, Colorado, at 7:31 p.m. mountain time. It was an F0 that touched down briefly and did $5,000 worth of damage to a garage. Image from slide. |
| The funnel lasted about 10 minutes. Because it extended so far to the ground, we're sure there was circulation there. The long shot is the marriage of two video grabs. The other two show the tornado and then the beginnings of the rope stage. Images from video. | |
| --- | --- |
| | |
| --- | --- |
| The funnel continued to rope out. By now it was practically dark, but we didn't want to give up on the storm just yet. Image from slide. | We followed it north for a bit but didn't want to play tag with the new meso in the dark. Image from video. |
| | |
| --- | --- |
| Despite the lightning, I ran up to Jason's car to consult with him and Scott about our road options. Image from video. | We decided to play it safe and keep an eye on the new meso. Image from video. |
| | |
| --- | --- |
| We watched as the meso persisted. Image from video. | It seemed to develop a swirl, here lit by lightning, but we gave up before long, as the meso moved away from the road and the darkness became inpenetrable. Image from video. |
There was a pretty hot lightning show as we let the meso drift away from us. Image from slide.
Links to 2001 chase reports:
go to the main gallery page | go to storm chasers
go to reports from 2001, 2000, 1999, 1998, 1997