:: home

:: books

:: gallery

:: data

:: blog

:: kids

:: shop

:: bio

:: help

:: contact

:: ChrisKridler.com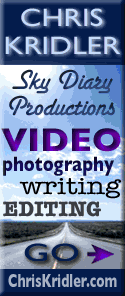 Words/images COPYRIGHT © 2020 by Chris Kridler. All rights reserved. Do not use Sky Diary photos on other Web sites. Personal use as computer wallpaper is permitted, but do not distribute photos. Write for information about purchasing video, photographs or articles. | Frequently asked questions

dispatches: May 2010
back | archive | current Share

19 MAY 2010


A giant soda bottle and retreating storms in Arcadia, Oklahoma on May 19.


Another beast: Notice my posts get shorter as the chase gets longer? It's winding down now, but I saw a beautiful high-precipitation supercell, complete with funnel, gorgeous sunset and a bazillion other chasers, in Oklahoma yesterday. see the photos.

18 MAY 2010
Intensity: I chased an amazing supercell today in the Texas panhandle, where I saw one or more tornadoes. For an explanation, see the photos. I'm too tired to write more, and Wednesday also will be a big chase day.

16 MAY 2010
Ideal chase, almost: After the frustrations of a west Texas chase on May 14, I was delighted to catch isolated storms today that started small in eastern New Mexico and - well, they stayed small, but became severe as they moved slowly southeast into Texas, as well as wonderfully photogenic. No tornado, but today it was about the experience and the pictures.

12 MAY 2010
Elusive: It's always frustrating to check into a hotel after a long chase and see the video of the tornadoes you missed on TV - in southern Kansas and near Elk City, Oklahoma. The crew I was with started our day in northern Oklahoma. We dabbled in Kansas, too, but by then, the tornadic storms were petering out. Tuesday was much more satisfying - even though the sky was capped all day, a beautiful, tiny, corkscrewing supercell went up at sunset near Woodward, Oklahoma. See those pix. I still haven't had a chase this trip that involved a good, long pursuit of one sustained supercell. Conditions just haven't been right.

10 MAY 2010

Update, 11:55 p.m. CDT: This was one of those absolutely nuts, off-the-hook storm days. The models had suggested it was coming for days, so every chaser and media person you can imagine was out to see the disaster in the making.

Tornado southwest of Wakita, Oklahoma, on May 10


Then the Storm Prediction Center issued a high risk of severe storms, including strong tornadoes. The big problem for chasing: They were expected to haul butt northeast at highway speeds, meaning you couldn't really chase the storms very well - you had to put yourself in front of them and hope. I started the day in Norman, Oklahoma, and picked Ponca City as a preliminary target. I ended up meeting up with Scott McPartland, Dave Lewison, Mark Robinson and Mark's crew of meteorology types in Blackwell, in north-central Oklahoma, and we went after a storm that went up near Woodward. (From home, Steve Sponsler and Cheryl Chang both said it split.)

Storm Prediction Center's tornado risk graphic on the morning of May 10


We caught it as it put down a brief but pretty tornado. Churning east, suddenly, instead of northeast, it then put down a multi-vortex tornado. I regret not getting more video or stopping for longer than a few seconds, but it literally chased about a hundred chase cars down Route 11 at about 55 mph. NOT a good situation. As it finally eased north of the road, the radar hook on it indicated a big (if unseen and rain-wrapped) tornado. After that, I did a lot of stair-stepping east of I-35, trying to catch another storm, but it was darn near impossible. I hope my next chase is a slow one. Many, many tornadoes occurred today, costing lives and causing damage. It was a tough day and a sad one.

High risk: It's a high-risk day. Strong tornadoes expected, but they'll be screaming by at highway speeds. It's going to be a rough one.

9 MAY 2010
Calm before the storms: I should be excited about Monday's storm-chasing prospects, and I am, but I'm also anxious.

Sunset in Norman, Oklahoma, on May 8.

There's been a lot of hype about what could happen tomorrow, for one thing, and I am not looking forward to crowds of chasers, media and gawkers coming out to see what they can see. In addition, every setup evolves as conditions change, and this one is dynamic, to say the least. Overnight and morning convection will lay down boundaries that will make the forecast tomorrow morning an interesting challenge. I'm also concerned that not only will the storms be traveling at a tough-to-catch (or get-out-of-the-way) rate of speed, but that each model run seems to inch them farther east, and closer to the hills and trees that exacerbate the danger of chasing them. But hey, this is why I'm here, right? I'm in central Oklahoma right now. I expect I'll end up farther north tomorrow, but I'll do a real forecast in the morning. I'm hoping for the best for the people who live here in Tornado Alley. It might be a scary day.

7 MAY 2010
On the road: I'm midway through my drive to Tornado Alley in an attempt to get into position to chase small storm possibilities for Sunday and extreme possibilities for Monday. The drive is fine so far, except for a horrible moment that snowballed earlier. It was dark, and I had just reached the I-20 bridge over the Mississippi to Louisiana when I saw a big dog on the bridge. I don't know if someone had left the poor thing or lost it. I slowed way down and put on my blinkers, but in another moment, a big pickup truck hit it. It was horrible. Just up the road I saw another pickup truck with an empty (though seemingly closed) dog crate in the back; I have no idea if it was a coincidence. I was horrified and had not even crossed the bridge when my phone rang with news from my husband that our older dog was in the pet hospital after she had breathing problems. She seemed OK but was being kept overnight. She's like a child to me, so there's one more thing to worry about.

5 MAY 2010


A pop-up Florida cell on May 5.


Chase season! Oh, boy ... it's here. I'm heading out to Tornado Alley this weekend. I wait all year for this moment, and yet it always sneaks up on me. Today Florida got me a little excited with a couple of popup cells and, yes, a rumble of thunder while I was at work. I'll be posting regular updates as I head out to Tornado Alley this weekend. I hope I'll have something to show for my trouble, and I hope that that something avoids all populated areas. It's already been a disastrous spring for much of the South.

I traded in my old car, which had been through hail barrages, had close encounters with tornadoes, and was my home away from home on all of my expeditions. But I got what could be its younger brother: yet another Honda Element. It's about to get quite a baptism.