:: home

:: books

:: gallery

:: data

:: blog

:: kids

:: shop

:: bio

:: help

:: contact

:: ChrisKridler.com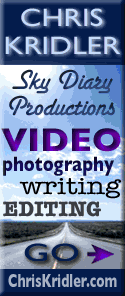 Words/images COPYRIGHT © 2020 by Chris Kridler. All rights reserved. Do not use Sky Diary photos on other Web sites. Personal use as computer wallpaper is permitted, but do not distribute photos. Write for information about purchasing video, photographs or articles. | Frequently asked questions

dispatches: May 2009
back | archive | current Share



Storms born in southern Kansas May 15


17 MAY 2009
Gusting out: That phrase could have two meanings - a description of the final line of storms I saw May 15, and my Plains chase in general. There was one day that produced some fast, ugly tornadoes when I might've caught something, but even then, it was a crap shoot depending on where in the line of storms you were - and I didn't want to chase in Missouri suburbia. The storm there that was all over TV, thanks to some reckless storm chasing and the video it produced, was impressive but, by many accounts, very difficult to chase. I'm pleased with some of the photos I got on this trip, but the zonal pattern, with broad, fast-moving troughs making for stormy days but not particularly tornadic ones, meant the chases were not as dramatic as I'd hoped. (I'd guess the same sentiment pervades the Vortex 2 research project, a massive caravan of vehicles out in search of tornadoes.) Meanwhile, most of the people I met in Oklahoma were just hoping the rain would stop, as they've had their fill of water. Now I'm back home in Florida, hoping for a chance at lightning storms. It wasn't my best Tornado Alley chase; I spent most of it on my own, chasing marginal stuff, but at least I got to enjoy the beauty of the Plains again, admire the wildflowers and, of course, try chicken-fried bacon.


Flowers and rainbow on Tuesday in Texas


13 MAY 2009
Still tornadoless: Tuesday ended up being a good chase, despite ridiculous amounts of driving, because there were great photo opportunities, including sunset-lit storms and lightning in the Texas panhandle. Wednesday was kind of crappy. I started the day in Chickasha, Oklahoma, and at first targeted north Oklahoma. But I thought Kansas would fire earlier, and the RUC model moved the convective potential bullseye into southeast Kansas, so I headed toward Independence, Kansas. Then the first "bomb" went off on the front. I got on the Kansas squall line and basically decided to let it pass over me in hopes of seeing some hail or something else interesting. After I did so, at Iola, a cell near that part of the line produced at least one tornado as it moved east and had a nice couplet. It was warned even as it moved into Missouri. I felt bad because I didn't try to stay east of the squall line today (and its huge hail). I should have been more ambitious, maybe, or should have gotten more sleep last night so I would have been more motivated! Sigh. What I wouldn't give for a classic, isolated, slow-moving supercell. But the pattern just isn't cooperating. It will likely get good after I have to return to my job in Florida.
11 MAY 2009
Driving, not chasing: I don't know if my strategic drive will help given dimming prospects for Tuesday, but at least I got to see some beautiful windmills.


Chicken-fried bacon


10 MAY 2009
Pointless driving: I suppose it's a mark of my desperation (dedication?) that I tried to chase storms today. At least I began the day with an interesting lunch that included, yes, chicken-fried bacon. See the photos. I'm now in Gainesville, Texas, with plans to move northwest in hopes of a better setup Tuesday.
8 MAY 2009
Long day: Once again, I'm too tired to post a full account, though you'll get the details in the gallery. My route was from Bartlesville to Durant, Oklahoma, then into central Texas and back north to Bowie, where I finally saw a beautiful supercell at sunset and was eaten alive by mosquitoes. So frustration culminated in eye candy. See the photos.


Sunset west of Independence, Kansas, May 7


7 MAY 2009: UPDATE
Bust: I ended up in northeast Oklahoma, and then Independence, Kansas, in hopes that an approaching boundary would trigger storms. It didn't. So I took a few sunset pictures instead.



Indian blanket in Texas, May 6

7 MAY 2009
Chasing wildflowers and, hopefully, storms: I'm still pondering where to chase today as I look at data in Norman, Oklahoma. The cap's big out west but so is the convective potential. Precipitation seems likely to my northeast. Meanwhile, I posted Texas wildflower photos from yesterday, when I drove to Oklahoma.

5 MAY 2009
Texas supercell: I'm too tired and it's too late to post a full account of today right now, but you can see the pictures. Let's just say I saw an awesome spinning storm and avoided grapefruit-size hail.

3 MAY 2009
Chasing the squall line: I woke up in Jackson, Mississippi, on May 3 to the first wave of squalls hammering the hotel. After a snooze, I got up about an hour later and saw a huge bow heading our way on the radar. I was out of the hotel by 9 a.m. and heading south on I-55 to try to intercept a tornado-warned cell in front of the line. I ended up in the Mississippi jungle, and the cell was absorbed by the squall line before I intercepted it, but it was interesting, with pretty good wind and tree damage. See the pictures.

This is the 10th anniversary of the terrible May 3, 1999, tornado outbreak that took several lives in Oklahoma and Kansas. I wasn't there, but I can't help but think of those folks as I settle for the night in Norman, Oklahoma.

2 MAY 2009


May 2 Mississippi storm


Chasing warm-up: I didn't really expect to chase storms today. I left Florida at 5:30 a.m. EDT to get a good start on the long drive to Tornado Alley, but it became increasingly obvious that I might actually get to the mid-South while storms were still firing. I was frustrated when I saw a satellite image showing a nice little line of cells in northeast Mississippi - unreachable for me - and later saw a beautiful tornado-warned cell on radar with a defined hook. I ended up north of Jackson and north of Yazoo City in the Thornton area, where I got a look at two tornado-warned storms as they blew by me ... but no tornadoes. Maybe they were there, but there are so many trees, it's hard to see anything here. And there might be more chasing in the jungle on Sunday. See the pictures from today.