:: home

:: books

:: gallery

:: data

:: blog

:: kids

:: shop

:: bio

:: help

:: contact

:: ChrisKridler.com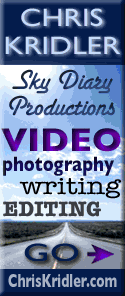 Words/images COPYRIGHT © 2020 by Chris Kridler. All rights reserved. Do not use Sky Diary photos on other Web sites. Personal use as computer wallpaper is permitted, but do not distribute photos. Write for information about purchasing video, photographs or articles. | Frequently asked questions

dispatches: May 2006
back | archive | current


27 MAY 2006


A "funnel" of Florida smoke, 26 May 2006


Small miracles: It's incredible I can even type right now. All day I've been knocked out by something resembling food poisoning. Given the fever, not sure what it is yet, but the effects are obvious. Ugh. I'm hoping to get better so I can hit the road, not for chasing - though I wish I could do that, too - but to see my folks. Family obligations vs. chasing vs. work schedule ... there should be room for everything, but unless you have a trust fund, that's not the case. At least I got in a little chasing on Friday. I met up with Cheryl Chang out at the Lone Cabbage Fish Camp, where we watched storms roll by and lightning threatening some hardcore (and I think crazy) fishermen. I'll post more pictures later, but for now, check out the "funnel" here. Of course, it's smoke from a fire, but it's a classic example of what chasers call a "smokenado," the kind of deceptive phenomenon that gets tornado chasers excited till they realize what it is. The storms produced a pretty shelf cloud as they pushed south and east. All in all, it wasn't a bad chase and made me feel a little better about not being in North Dakota right now.

22 MAY 2006


Discovery at Kennedy Space Center, 19 May 2006


Storm suspense: I put my chase plans on hold again because I just wasn't excited enough about the mid-week prospects in the Plains when I had to make a decision Sunday morning. It's hard to drive thousands of miles for marginal chances when there are so many things to do at home. Today, the forecast looks more promising for Tuesday storms, and part of me regrets my decision, but it's really too late for me to get there. I don't have enough drive time, and I'm going back to work for now. I covered the rollout of shuttle Discovery on Friday, and we've been working on our massive deck project all weekend. I hope I'll be able to fit in another chase before work demands take over. Meantime, I'll be watching radar Tuesday and gritting my teeth.

17 MAY 2006
Episodic: Sometimes cool things happen when you're a space reporter, like when Buzz Aldrin leaves you a voicemail. Imagine my surprise. Such events make the days a little more interesting.

My wet dog, 13 May 2006


I'm juggling stories at work and editing some video - we're big into video now at the newspaper - and checking forecast models when I get home to see when it's worth making another trip to Tornado Alley. I think there's a chance of storms next week, but I'm wondering whether to wait a week for a potentially bigger chance - except every time I look at the GFS model, the only thing that looks good is two weeks away. That is, as the day in question gets closer, the forecast gets a lot less stormy. The problem is, you can't trust models that far out. Live by the models, die by the models. That's one of the first things I learned as a newbie chaser 10 seasons ago. Yes, this is my 10th season. I guess I'll always be a newbie to the pioneers of the passion, but I know slightly more than I did then. For instance, avoid truck stop salad bars. Use a tripod. And it's better to make your own mistakes than to follow someone else into theirs. By the way, that's a photo of my dog, who got a dip in a hotel pool during a recent beach bike bar-a-thon, a quaint Florida custom. Gracie wasn't thrilled.

11 MAY 2006
The end already? I'm way behind on updates because of the lack of high-speed Internet and all the driving, which equals no time. We're in Mississippi, for goodness' sake. That's not where we're supposed to be to chase "Tornado Alley" storms. We had a good target yesterday but were behind the game all day due to the long distances involved. We got wet and saw some lightning, that's about it. I'm actually giving it up for now and hope to come back to the Alley at some later date. For the moment, there are a few new pix in the 2006 gallery with more to come.

9 MAY 2006


Lightning in McAlester, Oklahoma, 9 May 2006


The soggy and the sublime: After an unfulfilling chase yesterday, the hotel nightmare (even the advertised "hot waffle" was not the fresh-made thing you get at some hotels; it was a Kellogg's toaster product), and continuing sleep deprivation, a chase finally was in the offing today. It provided some adrenaline and some pretty pictures, and that's about all I can ask for. Our party left Great Bend, Kansas, fairly early and headed south, checking data now and again to help us pick our target. The obvious choice was southeastern Oklahoma and the less obvious choice was north-west-central Texas. Finally, we settled on eastern OK. As half our party broke off north of Ada to say hi to Cloud 9 Tours, Jim Edds and I proceeded south and then east after getting a look at the towers going up in earnest on the boundary. It was imperative to get east, ahead of the line, or else it would be a day of core-punching. Not that we avoided cores entirely. In McAlester, we waffled (again with the waffles!) about which storm to pick. A tornado warning was given for the storm to the south, but ours still looked good. We were about to give up on it when it became tornado warned, too. Then, on the west side of town, we spotted what appeared to be a rotating wall cloud. For a moment, I was wondering if we were about to have a tornado form over our heads. Then winds picked up like crazy and we thought we'd try to get east of it. Bad idea, or at least a bad road choice, not that there are any good roads out here in the tree-heavy hills. We got caught in serious horizontal winds - I'd guess about 70mph - with flying debris, driving rain, very low visibility and hail. The core, in other words. After more storm maneuvering and finding we'd be in the path of another tornado-warned storm, we slipped west back into town and got some very cool lightning shots, Jim with his HD video, me with some video and a lot of stills. This good photo opportunity did a lot to make the day memorable. Now our party is back together, along with Dave Patrick and Kristy Randall, and Mark Robinson and his friend Brian. I've spent a lot of time in McAlester today. The problem for tomorrow is that the risk area is in more bad chase territory and way farther east than I prefer to go. Meanwhile, after that, the Plains may be shut down in terms of severe weather. Should I stay or should I go?

8 MAY 2006


Cloudy, 8 May 2006


Update: I tried but didn't see much today. Storms didn't fire where people thought they should, though a big line of them formed in western Kansas, and I got a look. There were some pretty moments and a few good lightning bolts. It's something and was a good shakedown cruise for gear, including the new ham radio. I've now met up with Scott McPartland, Dave Lewison, Pete Ventre and Jim Edds. Given a promised early start in the morning, I anticipate more sleep deprivation in my future. Now we're at a terrible Days Inn in Great Bend that promised wi-fi, and it's not working. My ceiling is leaking in the rain. And goodness knows if there really will be a promised hot waffle in the a.m. More later...

Chase time: Just a quick update. After a 21-hour drive, I'm in Broken Arrow, Okla., and not quite in position to chase today. I'll need to do my forecast and drive some more to get there, wherever there is, but at least I feel like I'm back in Tornado Alley again. I love what one sees on the road: two billboards next to one another, one warning of fire danger, the other covered with flames advertising a barbecue joint. A sign that says "Watch for long logs" (insert your own joke here). Another for Toad Suck Park in Arkansas. Watermelons galore sold out of the backs of pickup trucks in Mississippi. No pictures yet ... stay tuned!