:: home

:: books

:: gallery

:: data

:: blog

:: kids

:: shop

:: bio

:: help

:: contact

:: ChrisKridler.com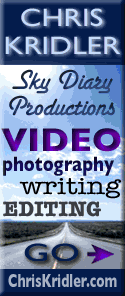 Words/images COPYRIGHT © 2018 by Chris Kridler. All rights reserved. Do not use Sky Diary photos on other Web sites. Personal use as computer wallpaper is permitted, but do not distribute photos. Write for information about purchasing video, photographs or articles. | Frequently asked questions

shuttle launch
19 December 1999
The space shuttle Discovery launched from Kennedy Space Center in Florida the evening of December 19, 1999. Below is a one-minute movie of the launch. You'll need QuickTime 4 (a free plug-in) to view it ... and you'll probably want a fast Internet connection so that it won't take all day to load.
Other space pages on Sky Diary:
rocket and space shuttle launch gallery | places at Kennedy Space Center

See more photos of rocket and shuttle launches at the
Sky Diary launch page.

To jump to links to storm chasers and weather sites, click here.



To look at the storm-chasing gallery,
click here.