:: home

:: books

:: gallery

:: data

:: blog

:: kids

:: shop

:: bio

:: help

:: contact

:: ChrisKridler.com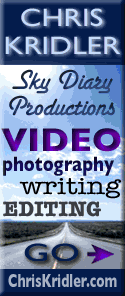 Words/images COPYRIGHT © 2018 by Chris Kridler. All rights reserved. Do not use Sky Diary photos on other Web sites. Personal use as computer wallpaper is permitted, but do not distribute photos. Write for information about purchasing video, photographs or articles. | Frequently asked questions

tour antics, 1998
For two weeks of my month chasing storms in the Plains in the spring of 1998, I was with Cloud 9 Tours. Charles Edwards, Jim Leonard, Casey Crosbie and R.J. Evans acted as guides. Other folks on the tour were Becky Bartley, John Guyton, Peter Harris, George Kourounis, Bob Le Mons, Dave Lewison, Jeffrey Rowley, Steve Smithson, Tom Warner and Barbara Zettlemoyer. Our shadows were a National Geographic Television crew, with producer John Bredar, videographer Dave Linstrom, sound maven Stacy Hruby, and Andy Mitchell. Here are some snapshots from the road.
Have you ever seen so much stuff? Loaded for bear with multiple laptops,
cameras and gadgets, the group prepares for its first chase.
| | |
| --- | --- |
| Stacy buttonholes Charles with a microphone. | Kenny of "South Park" is held hostage on the back of one of the two vans. |
| | |
| --- | --- |
| Jim and Casey scan the skies for potential storms. | (From left) George, RJ and Dave Lewison try a more unconventional method of calling up storms -- making squeaky noises with grass blades. (Taken from video.) |
| | |
| --- | --- |
| Becky, from Ohio, and Steve, from England, kindly pose for a picture. | National Geographic's John B. allows RJ to be his hands while Bob (left) translates, in sign language, John's description of how to shoot endless drive-bys of chase vehicles. (From video.) |
| | |
| --- | --- |
| Charles climbs a tree to better survey tornado damage in Lamont, Oklahoma. Next time, he'll have film in his camera. | It's not a DilloCam, but it sure is a 'dillo, and it's the right color. Paint by Becky. |
| | |
| --- | --- |
| Tremendous excitement greets another sunny day. From left: John G., George, Becky, Peter, Jeffrey and Steve. | On a bust day in Wichita Falls, Texas, chasers -- er, rather, storm connoisseurs -- Al Pietrycha and Matt Biddle spar in another funny witfest. |
| | |
| --- | --- |
| Bob shows off his inimitable fashion sense. | Masters of the grill: Jim Leonard and John G. |
Here we are, helpfully labeled "chasers,"
thanks to a bar in Salina, Kansas.
Want to learn more
about what chasing is really like? My first experience was with Cloud 9 Tours in 1997. You can read a detailed, journal-like article I wrote about it if you click here.
To see more people photos, check out the Sky Diary page of
storm chasers.
To go back to 1998 chase photos,
click here.