:: home

:: books

:: gallery

:: data

:: blog

:: kids

:: shop

:: bio

:: help

:: contact

:: ChrisKridler.com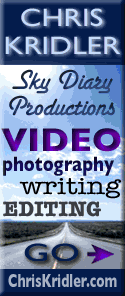 Words/images COPYRIGHT © 2018 by Chris Kridler. All rights reserved. Do not use Sky Diary photos on other Web sites. Personal use as computer wallpaper is permitted, but do not distribute photos. Write for information about purchasing video, photographs or articles. | Frequently asked questions

a triple lightning flash
After seeing tornadoes west of Medford, OK, on May 24, 1998, we (the Cloud 9 Tours group) headed east, weathered plum-size hail in Medford and then headed east again. That's when lightning hit on both sides of the road in front of us, sending sparks showering from transformers on three telephone poles. Here are shots from the strike, as well as an animated GIF to give you an idea of what it was like. All are taken from my Hi8 video.
The flash was amazingly close. On my video, when the lightning strikes, there is first a frame that is white -- completely filled with light. Two bolts are apparent in the frame shown above, though sparks showered from three telephone poles. It's possible that two poles were hit, one on each side of the road, and the charge on the left side traveled up the power line to cause sparks to shower from two transformers on the left, or north, side of the road. In the frame below, you can see the remnants of the lightning and showers of sparks.
To go back to photos from the 1998 chase season,
click here.
To jump to links to storm chasers and weather sites,
click here.