:: home

:: books

:: gallery

:: data

:: blog

:: kids

:: shop

:: bio

:: help

:: contact

:: ChrisKridler.com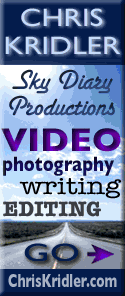 Words/images COPYRIGHT © 2018 by Chris Kridler. All rights reserved. Do not use Sky Diary photos on other Web sites. Personal use as computer wallpaper is permitted, but do not distribute photos. Write for information about purchasing video, photographs or articles. | Frequently asked questions

tale of a tour: part 6
The last chase
On May 16, as the tour winds down, I fear I will never see another storm. Charles doesn't deem a slight chance of action in Kansas worth going after, so with the remaining half of the group, we go to the local putt-putt.
After a game, some go-karts and other amusements, Charles' cell-phone starts ringing. Storms are going up in Kansas, and every chaser in Norman is on the phone. For tomorrow, SPC has put out a moderate risk for severe thunderstorms and possibly tornadoes in northern Kansas and Nebraska.
The chasers immediately snap into action and stand around in the hotel parking lot talking for three hours.
The Germans aren't interested in going, but I am. Charles enlists Allan as a backup driver, and we finally head north. We end up in Salina, Kansas, where several other chasers have converged, and park next to a gigantic slice of pizza. (It's on a trailer, promoting the Tombstone brand.) At the hotel, SPC's web site has bad news for us: the moderate-risk area has shifted up into Minnesota. My tour is almost up, and there's no way to get there and back in one day. We decide to play a slight-risk area in the morning.
This is how the tour ends, not with a bang, but a whimper. Up into Nebraska we drive, then back down through Kansas, catching some minor storms on the way back to Norman. Charles is frustrated. I'm frustrated. Allan might be frustrated, but he's not saying.
Tours like this are notoriously unpredictable. The second session of Cloud 9's tours, which follows mine, sees nine tornadoes in two days over Memorial Day weekend. Nine in two days! That's almost "Twister" frequency.
That tour group also is a witness to the deployment of the DilloCam. Built by Charles, it's a low-profile, mostly lead casing for a video camera designed to be placed in the path of a twister -- and Casey deploys it in the path of a big wedge tornado. The video is grungy and pretty impressive.
Chasers spin the wheel of fortune, and in one of every 10 chases, a tornado spins out of the clouds.
# # #
go to the main gallery page | go to storm chasers
go to reports from 2001, 2000, 1999, 1998, 1997