:: home

:: books

:: gallery

:: data

:: blog

:: kids

:: shop

:: bio

:: help

:: contact

:: ChrisKridler.com




advertisement: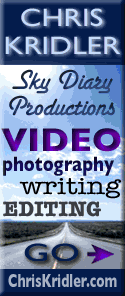 Words/images COPYRIGHT © 2016 by Chris Kridler. All rights reserved. Do not use Sky Diary photos on other Web sites. Personal use as computer wallpaper is permitted, but do not distribute photos. Write for information about purchasing video, photographs or articles. | Frequently asked questions

Want to learn more about what chasing is really like? My first experience
was with Cloud 9 Tours in 1997. You can read a detailed, journal-like article I wrote about it if you click here.
storm gallery:
1997 and before
To see a larger version of a photo, just click on its thumbnail image below. Then, to get back to this page, hit the "back" button on your browser.
| | |
| --- | --- |
| Mallory Square in Key West, Florida, is legendary for its views of sunsets. This photo was taken in 1988. | Above is a gust front, menacing some bovines (we've got cows!), that ripped through the Oklahoma panhandle in May 1997. I was with the Cloud 9 Tours group; we heard a tornado siren as this storm went through but weren't convinced that it had spawned a twister. |
| | |
| --- | --- |
| I barely caught this tornado on video north of Clarendon, Texas, on May 7, 1997. Hey, it ain't great, but it's a tornado. | A little later during the same storm, the sun set behind the wall cloud. |
| | |
| --- | --- |
| A 1997 storm in the Texas panhandle created these wonderful mammatus clouds at sunset ... | ... and the cloud-to-cloud lightning sprung out of a storm nearby. |
| | |
| --- | --- |
| Even Maryland occasionally produces a good lightning storm ... | ... and I happened to have my video camera with me when these bolts lit up the sky on August 17, 1997. |
| | |
| --- | --- |
| On a relatively calm day in the spring of 1997, a few of us ended up chasing rainbows. | It may look like nuclear war, but it's a storm as seen from White Sands National Monument in New Mexico on July 4, 1991. |