:: home

:: books

:: gallery

:: data

:: blog

:: kids

:: shop

:: bio

:: help

:: contact

:: ChrisKridler.com




advertisement: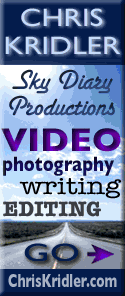 Words/images COPYRIGHT © 2016 by Chris Kridler. All rights reserved. Do not use Sky Diary photos on other Web sites. Personal use as computer wallpaper is permitted, but do not distribute photos. Write for information about purchasing video, photographs or articles. | Frequently asked questions

storm gallery: 2012
2012 Stormscapes: a video of mostly time-lapses of favorite 2012 storms, from Kansas to Florida


Here are some images and videos from the 2012 storm chase. Pages marked with the camera symbol have video. Come back for updates, and check out my blog.
March 31: The Florida storm chaser party is a warmup for the chase

May 7: Lightning storms and structure in Brevard County, Florida


May 15: Thunderstorms with rotation and more in north-central Brevard County, Florida


May 17: A severe storm with a beautiful shelf cloud in Brevard County, Florida


May 20-21: Arkansas lightning and a pretty Kansas sunset while en route to a Tornado Alley chase

May 22: Scattered South Dakota storms, a funnel, and an exploding pheasant


May 23: Cows and a Nebraska bust


May 24: Beautifully sculpted Kansas storm with spectacular lightning

May 25: West-central Kansas storms and a tornado at sunset


May 26: Nebraska bust and brilliant bugs

May 27: Pretty Kansas storms at sunset redeem messy day

May 28: Severe Texas storms and a spectacular gust-out

May 29: Beautiful tornadic Oklahoma supercell


May 30: Texas storms and bad decisions

June 1: Texas Panhandle fizzling storms and a meadow moment

June 2: Eastern Colorado storms, lightning and gust-out

June 3: Western Oklahoma storm and wild windmill sunset

June 10: Dazzling lightning crawlers in east-central Florida

June 13: Dramatic Florida severe storm and shelf cloud


August 15: Lightning in east-central Florida



Read Chris Kridler's blog, on her sister site at ChrisKridler.com
All photos Copyright 2012 by Chris Kridler, ChrisKridler.com, SkyDiary.com