:: home

:: books

:: gallery

:: data

:: blog

:: kids

:: shop

:: bio

:: help

:: contact

:: ChrisKridler.com




advertisement: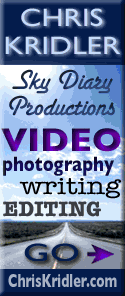 Words/images COPYRIGHT © 2016 by Chris Kridler. All rights reserved. Do not use Sky Diary photos on other Web sites. Personal use as computer wallpaper is permitted, but do not distribute photos. Write for information about purchasing video, photographs or articles. | Frequently asked questions

gallery: June 13, 2012
June 13, 2012: A short hop from home this day brought me face-to-face with a classic Florida shelf cloud, which originated from a severe storm. The photos tell the story. The video includes time lapse of it coming across the Indian River Lagoon. Adjust the quality setting to see the video in HD. Share
Click on the thumbnails to see a larger image. From the gallery pages, click "up" to return to this index.



This was what you'd call a "gentleman's chase," or perhaps a lady's - I picked a spot about five minutes from home to intercept the shelf cloud.


As it advanced east over the Indian River Lagoon from Cocoa, it became more defined.


Menacing and layered, the shelf cloud advanced.


Here's a three-image panorama of the storm.


Here, the shelf cloud had almost overtaken me. The lightning was intense.


The shelf cloud rolls over ...

The storm's underbelly or whale's mouth.


I dashed to Cocoa Beach but couldn't get ahead of it again.


The whale's mouth as seen from Cocoa Beach.


I drove south and over the Pineda Causeway to the mainland and looked southeast to get this photo. BR>

In Rockledge in the wake of the storm, a pretty rainbow appeared at sunset.


As the clouds' colors changed, anvil crawlers - hard to see in the light - spit out from the storm.

A few more little lightning crawlers, and that was that.

---
2012 reports and photos | blog | main gallery page
All photos Copyright 2012 by Chris Kridler, ChrisKridler.com, SkyDiary.com