:: home

:: books

:: gallery

:: data

:: blog

:: kids

:: shop

:: bio

:: help

:: contact

:: ChrisKridler.com




advertisement: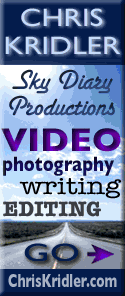 Words/images COPYRIGHT © 2016 by Chris Kridler. All rights reserved. Do not use Sky Diary photos on other Web sites. Personal use as computer wallpaper is permitted, but do not distribute photos. Write for information about purchasing video, photographs or articles. | Frequently asked questions

gallery: June 2, 2012
June 2, 2012: I chased again with Dave Lewison, Scott McPartland, Dayna Vettese, Brad Rousseau, and Simon Eng. We went to Boise City, in the Oklahoma panhandle, to await storm initiation on June 2, 2012. Our targets varied from here to southeast Colorado, my pick and well within reach. Share
Click on the thumbnails to see a larger image. From the gallery pages, click "up" to return to this index.



Chase rod vs. rat rod in Boise City, Oklahoma.


Brad and Dayna tough out the wait.


More chaser convergence: Ian Livingston, Simon Eng, Jason Foster and Scott McPartland.


To try to revive the magic of Campo, Colorado, known for its fabulous fluke tornado, we went there in vain hope.


With mammatus in the distance from storms coming off the mountains, the Element craves action.


We chose to pursue a storm near Two Buttes, Colorado, that had a rotating meso.


What a beautiful updraft!


It was trying, but not very hard.


The lightning was intense. This branchy bolt, a video frame, was followed by several strobing return strokes.

The storm produced amazing mammatus clouds.


We headed east, but the gust-out was under way.


The green menace!


The gust front was overtaking us quickly as we headed east. Photo by Chris Kridler, ChrisKridler.com, SkyDiary.com


We drove through the dust and saw a couple of halfhearted gustnadoes.


The wall of dust encroaches.


A quick shot of the dust from the driver's side window as we were moving.


Here it comes.


The storm approaches Johnson City, Kansas.

Similar view, with fisheye lens.


This was shot out the driver's side window while in motion. Note the dust.


We stopped in Ulysses, Kansas, to see if it would overtake us, but it was less than exciting, so we headed east.

---
2012 reports and photos | blog
All photos Copyright 2012 by Chris Kridler, ChrisKridler.com, SkyDiary.com
go to the main gallery page
go to reports from 2012, 2011, 2010, 2009, 2008, 2007, 2006, 2005, 2004, 2003, 2002, 2001, 2000, 1999, 1998, 1997