:: home

:: books

:: gallery

:: data

:: blog

:: kids

:: shop

:: bio

:: help

:: contact

:: ChrisKridler.com




advertisement: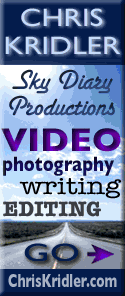 Words/images COPYRIGHT © 2016 by Chris Kridler. All rights reserved. Do not use Sky Diary photos on other Web sites. Personal use as computer wallpaper is permitted, but do not distribute photos. Write for information about purchasing video, photographs or articles. | Frequently asked questions

gallery: June 1, 2012
June 1, 2012: I chased today with Dave Lewison, Scott McPartland, Dayna Vettese, Brad Rousseau, and Simon Eng. Our target was the northern - northeast, really - Texas Panhandle. Storms fired west and east, but none that we targeted sustained themselves. Share
Click on the thumbnails to see a larger image. From the gallery pages, click "up" to return to this index.



On June 1, 2012, we found ourselves awaiting storms - or the right storm - in Gruver, Texas, with Cloud 9 Tours.

Brad ponders data, or Facebook.

The waiting game with Dave Lewison, Dayna Vettese and George Kourounis.

Storm chasing involves a lot of loitering.

Brad tries on Cloud 9's chicken hat.

There were storms firing to the west, but we weren't sure they were what we wanted.

We went after one to the east, and it was rotating.

The only problem is, it was also dying.

And there goes another vanishing updraft ...

So we ended the day on the edge of a wheat field, watching another dying storm.

Dayna, Brad, Scott, Chris, Simon, Dave.
---
2012 reports and photos | blog
All photos Copyright 2012 by Chris Kridler, ChrisKridler.com, SkyDiary.com
go to the main gallery page
go to reports from 2012, 2011, 2010, 2009, 2008, 2007, 2006, 2005, 2004, 2003, 2002, 2001, 2000, 1999, 1998, 1997