:: home

:: books

:: gallery

:: data

:: blog

:: kids

:: shop

:: bio

:: help

:: contact

:: ChrisKridler.com




advertisement: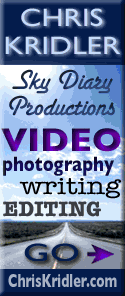 Words/images COPYRIGHT © 2016 by Chris Kridler. All rights reserved. Do not use Sky Diary photos on other Web sites. Personal use as computer wallpaper is permitted, but do not distribute photos. Write for information about purchasing video, photographs or articles. | Frequently asked questions

gallery: May 30, 2012
May 30, 2012: I chased with Dave Lewison, Scott McPartland, Dayna Vettese, Brad Rousseau, and Simon Eng, targeting west-central Oklahoma. But it turned out the only strip of good instability was in the eastern Texas panhandle, and that's where we ended up. I split from the group and didn't get the hailfest they did, but those are the chances you take. Share
Click on the thumbnails to see a larger image. From the gallery pages, click "up" to return to this index.



Our initial target was too far east - west-central Oklahoma - on May 30. We ended up heading west to catch storms going up in the eastern Texas panhandle, driving under stable skies in the process, as indicated by wave clouds.


More unfriendly, but kind of cool, wave clouds.


As shot through the buggy windshield, two storms presented themselves as seen from I-40 in the eastern Texas panhandle.


Our first choice, to the south, died.


But the flowers were pretty.


I made what I consider to be a bad decision - while the others hauled south to catch the storms in the Childress area, I thought I'd play the northern storm. It died, too, but then I watched a small, low-precipitation cell to the west.


The storm was pretty for a while, with a little thunder.


It was so high-based, it was unlikely to do anything, and low dewpoints weren't helping.


The incredible shrinking updraft. I'd call this day a bust.


The next night at The Big Texan in Amarillo, Jason Foster, Dave Lewison, Scott McPartland and Dayna Vettese have varied reactions to the country duo.

---
2012 reports and photos | blog
All photos Copyright 2012 by Chris Kridler, ChrisKridler.com, SkyDiary.com
go to the main gallery page
go to reports from 2012, 2011, 2010, 2009, 2008, 2007, 2006, 2005, 2004, 2003, 2002, 2001, 2000, 1999, 1998, 1997