:: home

:: books

:: gallery

:: data

:: blog

:: kids

:: shop

:: bio

:: help

:: contact

:: ChrisKridler.com




advertisement: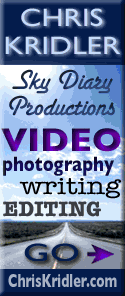 Words/images COPYRIGHT © 2016 by Chris Kridler. All rights reserved. Do not use Sky Diary photos on other Web sites. Personal use as computer wallpaper is permitted, but do not distribute photos. Write for information about purchasing video, photographs or articles. | Frequently asked questions

gallery: May 29, 2012
May 29, 2012: I met up again with Dave Lewison, Scott McPartland, Dayna Vettese, Brad Rousseau, and Simon Eng, and we headed for Watonga, Oklahoma. The idea wasn't original, and we saw lots of chasers, tour groups and researchers there. We chose the (initially) southern storm, watched it evolve, and then split up as we went into various modes of hail avoidance (or interception). This became a rotating beast with huge hail. I saw some of the most beautiful structure of my chasing career, albeit brief, and ended the evening with lightning photos in Norman, Oklahoma. Share
Click on the thumbnails to see a larger image. From the gallery pages, click "up" to return to this index.



Our group started May 29 by targeting Watonga, Oklahoma, where many chasers, tours and researchers converged. Here's Brad with a couple of the research vehicles.


Scott films the chaser convergence.

Among the chasers, Shawn Kellogg was wearing a T-shirt from my online store. (Shameless plug.)

Chasers chat as clouds build.


As the first cells went up, we targeted the southern one, which was moving east of Canton.


The storm worked on getting organized. On radar, the northern storms looked better for a while.


In fact, many storms were splitting.


But this one spit out an early warning of the hail that was to come. We dodged 2-inch hail - but soon there would be baseballs and softballs.


There's the hail core to the left, with the still high base on the right. Photo by Chris Kridler, SkyDiary.com, ChrisKridler.com


The southern storm (actually, storms were forming everywhere now) acquired inflow features and rotation.


Scott and Dave pull up as the storm starts to produce its first wall cloud.


Oh, yeah, this was rotating. I was surprised it didn't produce a tornado at this point.


Impressive rotating wall cloud.


It crossed the dirt road I was on but didn't produce.


Reorganizing ...


The storm approached Kingfisher, with attendant huge hail, and I waited too long to take the southern option - so I had to go west and then southeast to avoid it. My friends with hail shields dove in.


There's the hail core approaching Kingfisher, Oklahoma.


I got considerably south and took a shot looking north.


A quick look at the sunset to the west, where a new storm was building.


And then ... I got to Route 66 at El Reno, and on the way to Yukon, I stopped to photograph some of the most beautiful structure I'd ever seen.


Finally, the storm was tornado-warned, and a brief touchdown was reported. Brad, Dayna and Simon saw it. I did not.


Just wow!


I can't help myself - another shot from this gorgeous storm.


And again ...


I got to Norman ahead of the hail from the colliding storms and photographed lightning with the National Weather Service's radar in the foreground.


A quick crawler behind the dome.


Zap! This one was close.


And talk about a close strike ... I took shelter at a nearby gas station to await the hail.


Here's a stacked image of several strikes from that location. The dots (unfortunately) are raindrops on the lens. And while the wind from the storm was tremendous, the hail was quite small at my location - mostly pea-size.

---
2012 reports and photos | blog
All photos Copyright 2012 by Chris Kridler, ChrisKridler.com, SkyDiary.com
go to the main gallery page
go to reports from 2012, 2011, 2010, 2009, 2008, 2007, 2006, 2005, 2004, 2003, 2002, 2001, 2000, 1999, 1998, 1997