:: home

:: books

:: gallery

:: data

:: blog

:: kids

:: shop

:: bio

:: help

:: contact

:: ChrisKridler.com




advertisement: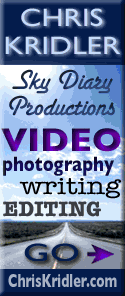 Words/images COPYRIGHT © 2016 by Chris Kridler. All rights reserved. Do not use Sky Diary photos on other Web sites. Personal use as computer wallpaper is permitted, but do not distribute photos. Write for information about purchasing video, photographs or articles. | Frequently asked questions

gallery: May 28, 2012
May 28, 2012: I chased on my own today, starting from Pratt, Kansas, and aiming for just over the Texas border in the Vernon area. I ended up under towers as they went up. They rapidly became severe. The first one was pretty, and I let it go to navigate to the storm behind it, which looked more meaty on radar. It was beautiful but gusted out spectacularly. I sought shelter in Seymour, but the big hail missed me. It always seems to miss me when I have protection from it. Share
Click on the thumbnails to see a larger image. From the gallery pages, click "up" to return to this index.



I started my day in Pratt, Kansas, and began the drive south to my target, the Vernon, Texas, area. I saw this on the way. Now this would be a great chase car.

Towers went up pretty much over my head as I paused on I-83 between Vernon and Seymour, Texas.

This one - and others around it - developed very quickly into hailers with little or no rotation.

At least it had an impressive precipitation core.

The storm behind it to the west, however, looked better, so I went south and then northwest again out of Seymour to get a closer look.

Though no rotation was indicated, at least at first, it was a beauty.

The vertical view.

The storm began showing outflowish tendencies, suggesting it was about to die despite indications of big hail.

This little feature rotated, but it was high-based and on the leading edge of the outflow.

The storm began kicking up dust.

The dust intensified as the storm moved south.

More dust, along with a serious hail core. It was chasing me and the other chasers on this farm road. I took shelter in Seymour and experienced a real "hurricane hailer," though the hail I got wasn't that large.

On the way to Wichita Falls for the night, a rainbow shone over a Cloud 9 Tours van.

Pretty mammatus filled the sky.

A chamber-of-commerce photo with the Wichita Falls water tower and rainbow.

I met up again with friends, and we photographed the mammatus display from the Olive Garden parking lot.

More gorgeous mammatus.

More mammatus...

And lots more ...

And a sky full of mammatus as the sun set over ye olde parking lot.
---
2012 reports and photos | blog
All photos Copyright 2012 by Chris Kridler, ChrisKridler.com, SkyDiary.com
go to the main gallery page
go to reports from 2012, 2011, 2010, 2009, 2008, 2007, 2006, 2005, 2004, 2003, 2002, 2001, 2000, 1999, 1998, 1997