:: home

:: books

:: gallery

:: data

:: blog

:: kids

:: shop

:: bio

:: help

:: contact

:: ChrisKridler.com




advertisement: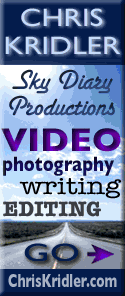 Words/images COPYRIGHT © 2016 by Chris Kridler. All rights reserved. Do not use Sky Diary photos on other Web sites. Personal use as computer wallpaper is permitted, but do not distribute photos. Write for information about purchasing video, photographs or articles. | Frequently asked questions

gallery: May 26, 2012
May 26, 2012: I started the day on my own and thought about targeting central Nebraska, but a cumulus field and other parameters suggested storms farther to the southwest. So in North Platte, I met up again with Dave Lewison, Scott McPartland, Dayna Vettese, Brad Rousseau, and Simon Eng, and we headed north for a bit. All I can say is, at least the bugs were interesting. Share
Click on the thumbnails to see a larger image. From the gallery pages, click "up" to return to this index.



I started May 26 by targeting west-central Nebraska for storms. It increasingly looked as if southwest Nebraska would be good for initiation, so I headed toward North Platte, where I could see storms going up.

I caught up with my chase pals, and we waited for a while in Tryon, Nebraska, as we watched unremarkable storms try to get their acts together as they moved north.

Scott's XTerra was ready for hail, as always.

Even the hail guards couldn't stop a tumbleweed from nailing Scott's window the day before.

As we waited, I went on a bug tour of an interesting plant - a native Platte Thistle. The blue-green guy in the back may be a sweat bee; that may be a spotted cucumber beetle in foreground.

After looking at thousands of beetle photos, I can't identify this one. Anyone?

Bee butt.

Ladybug on a Platte Thistle bud.

Scott shows visitors a hail dent.

Scott answers storm-chasing questions.

Wow, that's what the inside of a chase car looks like!

A storm tries, as seen from Tryon. But it wasn't tryin' hard enough.

The wind was ripping on this Memorial Day weekend, however, as seen at a cemetery on the road east.

We deemed the few storms up north not pursuing. Thus endeth the chase.
---
2012 reports and photos | blog
All photos Copyright 2012 by Chris Kridler, ChrisKridler.com, SkyDiary.com
go to the main gallery page
go to reports from 2012, 2011, 2010, 2009, 2008, 2007, 2006, 2005, 2004, 2003, 2002, 2001, 2000, 1999, 1998, 1997