:: home

:: books

:: gallery

:: data

:: blog

:: kids

:: shop

:: bio

:: help

:: contact

:: ChrisKridler.com




advertisement: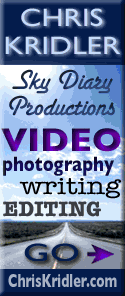 Words/images COPYRIGHT © 2016 by Chris Kridler. All rights reserved. Do not use Sky Diary photos on other Web sites. Personal use as computer wallpaper is permitted, but do not distribute photos. Write for information about purchasing video, photographs or articles. | Frequently asked questions

gallery: May 20-21, 2012
May 20-21, 2012: On the epic drive from Florida to Tornado Alley, I saw some enticing lightning in Arkansas. Despite my fatigue, I stopped for about a half-hour near Jeanette to take photos of the lightning on May 20. On May 21, I was treated to a beautiful Kansas sunset as I drove to Nebraska. The clouds are actually blowoff from a distant storm over North Platte. Share
Click on the thumbnails to see a larger image. From the gallery pages, click "up" to return to this index.



On May 20, on my way to Tornado Alley, I ran into lightning storms near Jeannette, Arkansas.


Many of the bolts were embedded in rain.

The bright light is an approaching car.


More lightning near Jeanette, Arkansas.


It was a mix of cloud-to-ground bolts and crawlers.


On May 21, I stopped in northern Kansas at an oil pumpjack to get a photo of the sunset.

The light got better after the sun went down.

Amber waves of grain!


The Element at sunset.

---
2012 reports and photos | blog
All photos Copyright 2012 by Chris Kridler, ChrisKridler.com, SkyDiary.com
go to the main gallery page
go to reports from 2012, 2011, 2010, 2009, 2008, 2007, 2006, 2005, 2004, 2003, 2002, 2001, 2000, 1999, 1998, 1997