:: home

:: books

:: gallery

:: data

:: blog

:: kids

:: shop

:: bio

:: help

:: contact

:: ChrisKridler.com




advertisement: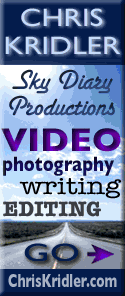 Words/images COPYRIGHT © 2016 by Chris Kridler. All rights reserved. Do not use Sky Diary photos on other Web sites. Personal use as computer wallpaper is permitted, but do not distribute photos. Write for information about purchasing video, photographs or articles. | Frequently asked questions

gallery: May 15, 2012
May 15, 2012: Storms were vigorous and numerous today in central Florida. I saw some interesting features, including rotation on a small tower. I also caught up to a tornado-warned storm near Titusville, but I didn't see much except a lot of green color and vicious rain and lightning. Share
Click on the thumbnails to see a larger image. From the gallery pages, click "up" to return to this index.


| | | |
| --- | --- | --- |
| On May 15, 2012, I caught this growing tower just south of a lightning storm that was hammering Port St. John, Florida. | It briefly exhibited rotation. The brown smudge at the bottom of the image is smoke from a lightning fire. | The structure continued to evolve. |
| Eventually, the tower weakened and rained itself out. | Here's a look at the rain and possibly hail, backlit by the sun. | West of I-95, as seen from near the St. Johns River, this tower over Rockledge had impressive convection. |
| It developed nice precipitation. | The base even briefly looked as if it had developed a wall cloud. | The rain began to fill in. |
| I tried to get a view of it over Lake Poinsett, but it was moving south. | Here's a skinny cloud feature with rays of sunlight over Lake Poinsett. | I followed the storm south; from Viera, I could see what looked like hail falling. |
| At the Viera Wetlands, this turtle didn't seem to appreciate the gully-washer that had gone through. | Pretty view of the storm from the Viera Wetlands. | The storm lost a lot of structure as the rain took over. |
| Another view from the Viera Wetlands. | Later, I tried to catch up with a tornado-warned storm. This is what the leading edge looked like in Titusville. | It was definitely green and turbulent. I didn't see many features as I went east and got near the radar-indicated area of rotation, but I got on the storm late in its life. |
---
2012 reports and photos | blog
All photos Copyright 2012 by Chris Kridler, ChrisKridler.com, SkyDiary.com
go to the main gallery page
go to reports from 2012, 2011, 2010, 2009, 2008, 2007, 2006, 2005, 2004, 2003, 2002, 2001, 2000, 1999, 1998, 1997