:: home

:: books

:: gallery

:: data

:: blog

:: kids

:: shop

:: bio

:: help

:: contact

:: ChrisKridler.com




advertisement: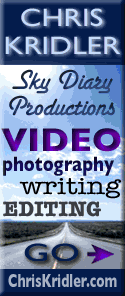 Words/images COPYRIGHT © 2016 by Chris Kridler. All rights reserved. Do not use Sky Diary photos on other Web sites. Personal use as computer wallpaper is permitted, but do not distribute photos. Write for information about purchasing video, photographs or articles. | Frequently asked questions

gallery: June 23, 2011
June 23, 2011: I checked out the sea-breeze cumulus towers and short-lived storms today in Brevard and Osceola Counties in Florida. They didn't do much but look pretty for a few minutes. They lived fast and died young. Share
Click on the thumbnails to see a larger image, or view these photos as a gallery. From the gallery pages, click the "up" arrow to return to this index.


| | | |
| --- | --- | --- |
| | | |
| 23 JUNE 2011 - A towering cumulus cloud puffs itself out as seen from the Indian River Lagoon in Rockledge, Florida. Photo by Chris Kridler, chriskridler.com | 23 JUNE 2011 - A towering cumulus clouds go up on the east coast sea breeze over Cocoa, Florida. Photo by Chris Kridler, chriskridler.com | 23 JUNE 2011 - A towering cumulus goes up in Viera, Florida. Photo by Chris Kridler, chriskridler.com |
| | | |
| 23 JUNE 2011 - A storm dumps a heavy rain core near the Osceola-Brevard county line. Photo by Chris Kridler, chriskridler.com | 23 JUNE 2011 - The afternoon storm is raining itself out. Photo by Chris Kridler, chriskridler.com | 23 JUNE 2011 - More clouds and short-lived storms go up in Osceola County. Photo by Chris Kridler, chriskridler.com |
| | | |
| 23 JUNE 2011 - A storm drops heavy rain in Osceola County amid the orange groves. Photo by Chris Kridler, chriskridler.com | 23 JUNE 2011 - A small storm is backlit by the sun in Osceola County, Florida. Photo by Chris Kridler, chriskridler.com | 23 JUNE 2011 - The sun shines above a tiny storm in Osceola County, Florida. Photo by Chris Kridler, chriskridler.com |
go to the main gallery page | go to storm chasers
go to reports from 2011, 2010, 2009, 2008, 2007, 2006, 2005, 2004, 2003, 2002, 2001, 2000, 1999, 1998, 1997