:: home

:: books

:: gallery

:: data

:: blog

:: kids

:: shop

:: bio

:: help

:: contact

:: ChrisKridler.com




advertisement: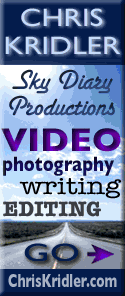 Words/images COPYRIGHT © 2016 by Chris Kridler. All rights reserved. Do not use Sky Diary photos on other Web sites. Personal use as computer wallpaper is permitted, but do not distribute photos. Write for information about purchasing video, photographs or articles. | Frequently asked questions

gallery: June 14, 2011
June 14, 2011: Severe and not-so-severe storms came in waves through Brevard County, Florida, today. I got a few shots earlier in the day. After dark, getting lightning was challenging, as the storms were moving quickly south, and it was difficult getting into position before the rain overtook me. The joys of suburban chasing! Share
Click on the thumbnails to see a larger image, or view these photos as a gallery. From the gallery pages, click the "up" arrow to return to this index.


14 JUNE 2011 - Storms whip up choppy waves on the Indian River Lagoon near the Pineda Causeway. Photo by Chris Kridler, chriskridler.com
14 JUNE 2011 - Lightning over Indian Harbour Beach. Photo by Chris Kridler, chriskridler.com
14 JUNE 2011 - Lightning over Indialantic. Photo by Chris Kridler, chriskridler.com
14 JUNE 2011 - Lightning over Indialantic, Florida. Photo by Chris Kridler, chriskridler.com
go to the main gallery page | go to storm chasers
go to reports from 2011, 2010, 2009, 2008, 2007, 2006, 2005, 2004, 2003, 2002, 2001, 2000, 1999, 1998, 1997