:: home

:: books

:: gallery

:: data

:: blog

:: kids

:: shop

:: bio

:: help

:: contact

:: ChrisKridler.com




advertisement: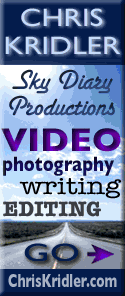 Words/images COPYRIGHT © 2016 by Chris Kridler. All rights reserved. Do not use Sky Diary photos on other Web sites. Personal use as computer wallpaper is permitted, but do not distribute photos. Write for information about purchasing video, photographs or articles. | Frequently asked questions

gallery: May 30, 2011
May 30, 2011: Today was a fun chase to end my Tornado Alley season. Though it seemed likely that storms would fire in a line, and they did, they provided a lot of photo opportunities. We settled on Ord, Nebraska, as our target. The only drawback is how few roads there are in this part of Nebraska. It's beautiful but desolate. Today I chased with Bill Hark, Dave Lewison, Scott McPartland, Heather Reynolds, Mark Robinson, Brad Rousseau and Dayna Vettese, Daniel Shaw, and Meghan Yeo. Share
Click on the thumbnails to see a larger image, or view these photos as a gallery. From the gallery pages, click the "up" arrow to return to this index.


| | | |
| --- | --- | --- |
| | | |
| 30 MAY 2011 - Dave hugs the dinosaur at a Sinclair gas station in Ord as we await storm initiation. Photo by Chris Kridler, chriskridler.com | 30 MAY 2011 - Brad may see a cloud. Photo by Chris Kridler, chriskridler.com | 30 MAY 2011 - The chase crew on May 30: Dave Lewison and Mark Robinson (front), Brad Rousseau (on dino), Dayna Vettese, Chris Kridler, Meghan Yeo, Heather Reynolds, Daniel Shaw, Scott McPartland, Bill Hark. Photo by Chris Kridler, chriskridler.com |
| | | |
| 30 MAY 2011 - Ride 'em, Mark! Photo by Chris Kridler, chriskridler.com | 30 MAY 2011 - Mark climbs the hill to get a better look at the suddenly popping cloud towers to the west of Ord, Nebraska. Photo by Chris Kridler, chriskridler.com | 30 MAY 2011 - The line seemed to go all at once. We had a decent cell embedded in the line to our west, but it was screaming northeast in an area with almost no roads. Photo by Chris Kridler, chriskridler.com |
| | | |
| 30 MAY 2011 - The embedded storm had almost outflowish features but began to show rotation on radar. Photo by Chris Kridler, chriskridler.com | 30 MAY 2011 - As the storm matured, we couldn't pursue it, because it crossed the road that would take us north. Soon, there were tornado reports from it. Photo by Chris Kridler, chriskridler.com | 30 MAY 2011 - Note the heavy rain/hail core. Photo by Chris Kridler, chriskridler.com |
| | | |
| 30 MAY 2011 - We drove north and found where it had dropped baseball-size hail on cars. Scott and I hold a few of the hailstones, shown after some melting. Photo by Chris Kridler, chriskridler.com | 30 MAY 2011 - Again, these hailstones had already melted some before we got there. Photo by Chris Kridler, chriskridler.com | 30 MAY 2011 - There was no way to get into better position on the storms, given the lack of roads, so I watched the line of storms slide north. Photo by Chris Kridler, chriskridler.com |
| | | |
| 30 MAY 2011 - At least the storms had dramatic structure. Several of the tornadoes reported were apparently gustnadoes - quick spinups off the line. Photo by Chris Kridler, chriskridler.com | 30 MAY 2011 - The cows seemed only modestly alarmed. Photo by Chris Kridler, chriskridler.com | 30 MAY 2011 - Dave shoots chasers, cars and cows. Photo by Chris Kridler, chriskridler.com |
| | | |
| 30 MAY 2011 - Parting shot of the cows. Photo by Chris Kridler, chriskridler.com | 30 MAY 2011 - We bid some goodbyes in Taylor, where a major chaser convergence was occurring, and then let the line catch us. Photo by Chris Kridler, chriskridler.com | 30 MAY 2011 - Cold wind blasted behind the storms, and a beautiful double rainbow appeared. Photo by Chris Kridler, chriskridler.com |
| | | |
| 30 MAY 2011 - The sun set over soaked fields. Photo by Chris Kridler, ChrisKridler.com | 30 MAY 2011 - A fantastic mammatus show was under way. The extra antennas on my car are Mark's, as I was ferrying him and his luggage to the hotel. Photo by Chris Kridler, chriskridler.com | 30 MAY 2011 - Great mammatus! Photo by Chris Kridler, chriskridler.com |
| | | |
| 30 MAY 2011 - Dan and Dave get some shots. Photo by Chris Kridler, chriskridler.com | 30 MAY 2011 - Antenna farm (most of them Mark's) meets sky. Photo by Chris Kridler, chriskridler.com | 30 MAY 2011 - Lightning amid the mammatus. Photo by Chris Kridler, chriskridler.com |
| | | |
| 30 MAY 2011 - The lightning was almost constant, but the line was moving to the east. Photo by Chris Kridler, chriskridler.com | 30 MAY 2011 - Another lightning shot, with vehicle lights. Photo by Chris Kridler, chriskridler.com | 30 MAY 2011 - Zig-zag lightning, and the chase is over. Photo by Chris Kridler, chriskridler.com |
go to the main gallery page | go to storm chasers
go to reports from 2011, 2010, 2009, 2008, 2007, 2006, 2005, 2004, 2003, 2002, 2001, 2000, 1999, 1998, 1997