:: home

:: books

:: gallery

:: data

:: blog

:: kids

:: shop

:: bio

:: help

:: contact

:: ChrisKridler.com




advertisement: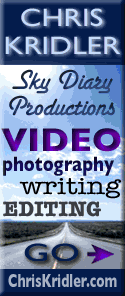 Words/images COPYRIGHT © 2016 by Chris Kridler. All rights reserved. Do not use Sky Diary photos on other Web sites. Personal use as computer wallpaper is permitted, but do not distribute photos. Write for information about purchasing video, photographs or articles. | Frequently asked questions

gallery: May 25-27, 2011
May 25-27, 2011: I thought I'd try to chase a slim chance of upslope storms in Colorado on May 26, which meant May 25 was a travel day. Then May 26 was a bust day, and so was May 27. Still, I got a few pictures. Probably not a thousand miles' worth, but here they are. Share
Click on the thumbnails to see a larger image, or view these photos as a gallery. From the gallery pages, click the "up" arrow to return to this index.


| | | |
| --- | --- | --- |
| | | |
| 25 MAY 2011 - This was a travel day for me, from Norman, Oklahoma, to Colby, Kansas, in anticipation of driving into Colorado the next day. This was a Kansas sunset. Photo by Chris Kridler, chriskridler.com | 26 MAY 2011 - I drove all the way to Greeley, Colorado, in hopes of upslope storms, even though I knew the cloud cover could be a problem. It was. No storms. Photo by Chris Kridler, chriskridler.com | 26 MAY 2011 - I gave up and headed back east for marginal chase chances the next day. This was shot on a vast windmill farm that is under construction in east Colorado. Photo by Chris Kridler, chriskridler.com |
| | | |
| 27 MAY 2011 - The cap again prevented storms from firing on May 27 in Oklahoma. If only this statue's peace pipe (in Kingfisher) could blow up some storms. Photo by Chris Kridler, chriskridler.com | 27 MAY 2011 - Cumulus struggle northwest of Watonga, Oklahoma. Photo by Chris Kridler, chriskridler.com | 27 MAY 2011 - The wildflowers had a lot of bug tenants. Photo by Chris Kridler, chriskridler.com |
| | | |
| 27 MAY 2011 - Check out the ants. Photo by Chris Kridler, chriskridler.com | 27 MAY 2011 - Queen Anne's Lace, up close. Photo by Chris Kridler, chriskridler.com | 27 MAY 2011 - Cumulus struggle northwest of Watonga, Oklahoma. Photo by Chris Kridler, chriskridler.com |
| | | |
| 27 MAY 2011 - Queen Anne's Lace, I think. Photo by Chris Kridler, chriskridler.com | 27 MAY 2011 - The grass seemed to flow in the wind. Photo by Chris Kridler, chriskridler.com | 27 MAY 2011 - A little golden light ended the day. Photo by Chris Kridler, chriskridler.com |
go to the main gallery page | go to storm chasers
go to reports from 2011, 2010, 2009, 2008, 2007, 2006, 2005, 2004, 2003, 2002, 2001, 2000, 1999, 1998, 1997