:: home

:: books

:: gallery

:: data

:: blog

:: kids

:: shop

:: bio

:: help

:: contact

:: ChrisKridler.com




advertisement: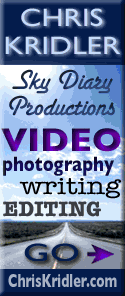 Words/images COPYRIGHT © 2016 by Chris Kridler. All rights reserved. Do not use Sky Diary photos on other Web sites. Personal use as computer wallpaper is permitted, but do not distribute photos. Write for information about purchasing video, photographs or articles. | Frequently asked questions

gallery: May 21, 2011
May 21, 2011: I targeted Ardmore in southern Oklahoma today as a starting point, due to a potentially favorable spin in the atmosphere and huge instability, among other things. When I got there after driving from Wichita, I couldn't help driving just a bit farther to Marietta, just north of the Texas border. (Also, I left the Ardmore truck stop because a skunk was wandering around, and I'd almost stepped on it when I attempted to get out of my car.) I was anxious over an already-reported tornado on the ground in Texas, but like everything in Texas, it was really far away. I chose to remain in my target area, watching cloud towers push up and break apart - until one started to look as if it meant it. It had crisp, billowing convection and began to cut a gorgeous shape in the sky. When I got up close enough to see the base, rotation was evident. At first, it had a multi-vortex appearance and produced a couple of needle funnels in this mode. Later, it put down short-lived tornadoes. And much later, as this storm died, another to its north produced a tornado just outside Ada, Oklahoma. I got to it just in time. Share
Click on the thumbnails to see a larger image, or view these photos as a gallery. From the gallery pages, click the "up" arrow to return to this index.


| | | |
| --- | --- | --- |
| | | |
| 21 MAY 2011 - My initial target for May 21 was Ardmore, Oklahoma. I briefly drifted south, then north, hoping the turkey towers would dig in. Finally, this one did. Photo by Chris Kridler, chriskridler.com | 21 MAY 2011 - I took a quick shot of the updraft's convection as I got closer. Photo by Chris Kridler, chriskridler.com | 21 MAY 2011 - As I got close, south of the town of Sulphur, I got a look at the base. Photo by Chris Kridler, chriskridler.com |
| | | |
| 21 MAY 2011 - Rotation was apparent, and a funnel feature formed. Photo by Chris Kridler, chriskridler.com | 21 MAY 2011 - Slightly north, the rotating wall cloud formed a couple of needle funnels and had a multi-vortex appearance. Photo by Chris Kridler, chriskridler.com | 21 MAY 2011 - More winding roads and trees later, I got to the business end of the storm on the other side of town, where it formed a more serious funnel. Photo by Chris Kridler, chriskridler.com |
| | | |
| 21 MAY 2011 - After that attempt, the storm reorganized east of town. Photo by Chris Kridler, chriskridler.com | 21 MAY 2011 - It was clearly rotating. Photo by Chris Kridler, chriskridler.com | 21 MAY 2011 - First, a needle tornado touched down. Photo by Chris Kridler, chriskridler.com |
| | | |
| 21 MAY 2011 - Then a second tornado formed, touching down briefly. Photo by Chris Kridler, chriskridler.com | 21 MAY 2011 - Here's the funnel. Photo by Chris Kridler, chriskridler.com | 21 MAY 2011 - Its tendrils twisted on the ground. Photo by Chris Kridler, chriskridler.com |
| | | |
| 21 MAY 2011 - Here's a more zoomed-in shot from video. Photo by Chris Kridler, chriskridler.com | 21 MAY 2011 - The storm formed another brief funnel, and then I tried to catch up with it only to be caught by a long, slow train. Photo by Chris Kridler, chriskridler.com | 21 MAY 2011 - As I tried to catch up with it near Roff, I glimpsed the huge new storm that had formed to the northwest. Photo by Chris Kridler, chriskridler.com |
| | | |
| 21 MAY 2011 - My storm was dying, but I saw some of the tornado damage - a couple of power poles down, and tree damage. Photo by Chris Kridler, chriskridler.com | 21 MAY 2011 - I realized I could get to the newer storm northwest of Ada, so I pushed north and began driving northwest around the loop on the west side of town. This was the view. Photo by Chris Kridler, chriskridler.com | 21 MAY 2011 - I'd seen a wall cloud on the base, and as I crested the train overpass, a tornado was on the ground. I stopped to get shots. Photo by Chris Kridler, chriskridler.com |
| | | |
| 21 MAY 2011 - My dash cam recorded video of the tornado. Photo by Chris Kridler, chriskridler.com | 21 MAY 2011 - Here's a still shot, murky in the haze and growing darkness. Photo by Chris Kridler, chriskridler.com | 21 MAY 2011 - Another shot of the amazing structure with the funnel. Photo by Chris Kridler, chriskridler.com |
| | | |
| 21 MAY 2011 - From the perspective of my video, this looked like another funnel. Photo by Chris Kridler, chriskridler.com | 21 MAY 2011 - The funnel lifted, but the structure was still awesome. Photo by Chris Kridler, chriskridler.com | 21 MAY 2011 - A new wall cloud couldn't quite get its act together, but there was some great lightning. Photo by Chris Kridler, chriskridler.com |
| | | |
| 21 MAY 2011 - I loved the light. Photo by Chris Kridler, chriskridler.com | 21 MAY 2011 - The still-rotating storm had a little more lightning left to give, but it quickly weakened. Photo by Chris Kridler, chriskridler.com | 21 MAY 2011 - Brad, Dave and crew got a close view of the Ada tornado, and they checked out their catch, along with lots of other chasers at Applebees. Photo by Chris Kridler, chriskridler.com |
go to the main gallery page | go to storm chasers
go to reports from 2011, 2010, 2009, 2008, 2007, 2006, 2005, 2004, 2003, 2002, 2001, 2000, 1999, 1998, 1997