:: home

:: books

:: gallery

:: data

:: blog

:: kids

:: shop

:: bio

:: help

:: contact

:: ChrisKridler.com




advertisement: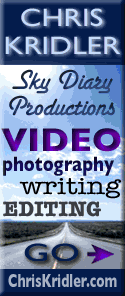 Words/images COPYRIGHT © 2016 by Chris Kridler. All rights reserved. Do not use Sky Diary photos on other Web sites. Personal use as computer wallpaper is permitted, but do not distribute photos. Write for information about purchasing video, photographs or articles. | Frequently asked questions

gallery: May 19, 2011
May 19, 2011: The prospects seemed good today for tornadic supercells, the kind I've been waiting for, especially in south-central Kansas. Sometimes, you take a chance on an area where you hope for long-lived, photogenic storms rather than going after the other stuff. Today, it was all "other stuff," as storms fired off the dryline and zoomed north, prompting a few unimpressive tornado reports. (To clarify: Yes, there were tornadoes, just not what I hoped for.) But meeting other storm chasers was fun. Share
Click on the thumbnails to see a larger image, or view these photos as a gallery. From the gallery pages, click the "up" arrow to return to this index.


19 MAY 2011 - The chase began with a meal at this awesome diner in Pratt, Kansas, now called The Famous Servateria, with chasers Bill Hark and Robert Balogh. I love this populuxe sign! Photo by Chris Kridler, chriskridler.com
19 MAY 2011 - On the north side of Pratt, I liked the look of the bubbling cumulus clouds. Photo by Chris Kridler, chriskridler.com
19 MAY 2011 - We went a little north up the road to Saint John and stopped to wait for storms to fire. Bill applied Rain-X to his windows. Photo by Chris Kridler, chriskridler.com
19 MAY 2011 - We expected storms in Oklahoma first, and then Kansas, off the dryline. Again, the clouds were bubbling, but it was hard to watch storms firing elsewhere and wait. Photo by Chris Kridler, chriskridler.com
19 MAY 2011 - Waves of chasers came and went, and then Dave Lewison and Scott McPartland (their roof cam is shown), along with Mark Robinson and his crew, arrived. Photo by Chris Kridler, chriskridler.com
19 MAY 2011 - Chaser convergence in Saint John. Photo by Chris Kridler, chriskridler.com
19 MAY 2011 - Brad gets footage of the cloud towers. Photo by Chris Kridler, chriskridler.com
19 MAY 2011 - Turkey towers at our location didn't bode well. Storms a little farther north began rotating, and a couple put down small tornadoes, and storms in Oklahoma were raging. But we were holding out for the quality supercell we expected here. Photo by Chris Kridler, chriskridler.com
19 MAY 2011 - Chaser convergence. Photo by Chris Kridler, chriskridler.com
19 MAY 2011 - It became clear that our perfect storms wasn't going to materialize. We went east after a splitting, isolated storm. I took a quick snapshot of the radar showing the storms streaming north just to our west. Photo by Chris Kridler, chriskridler.com
19 MAY 2011 - Our target storm died as we approached, prompting a chaser conference on a remote road. Photo by Chris Kridler, chriskridler.com
19 MAY 2011 - Bill Hark and I broke off from the group and decided to follow what was the southernmost storm north to I-70. It didn't look like much, but another blew up over us. Still not much! Photo by Chris Kridler, chriskridler.com
19 MAY 2011 - There was some rotation, so we watched the storm for a few minutes. Photo by Chris Kridler, chriskridler.com
19 MAY 2011 - At Minneapolis, Kansas, we watched the storm move northeast, with lots of scud bombs and weak rotation apparent; this seemed to be a wall cloud. Photo (from video) by Chris Kridler, chriskridler.com
go to the main gallery page | go to storm chasers
go to reports from 2011, 2010, 2009, 2008, 2007, 2006, 2005, 2004, 2003, 2002, 2001, 2000, 1999, 1998, 1997