:: home

:: books

:: gallery

:: data

:: blog

:: kids

:: shop

:: bio

:: help

:: contact

:: ChrisKridler.com




advertisement: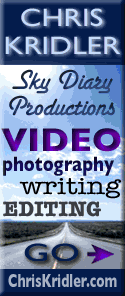 Words/images COPYRIGHT © 2016 by Chris Kridler. All rights reserved. Do not use Sky Diary photos on other Web sites. Personal use as computer wallpaper is permitted, but do not distribute photos. Write for information about purchasing video, photographs or articles. | Frequently asked questions

gallery: May 18, 2011
May 18, 2011: There was a chance of an isolated severe storm in western Oklahoma today, and I was sure I could get to it. I targeted Watonga, and adjusted the target a little north and west, only to get a doomed turkey tower - a cloud that tried and died. For the whole area, it was a bust for many chasers. Here's a chronicle of the day. Share
Click on the thumbnails to see a larger image, or view these photos as a gallery. From the gallery pages, click the "up" arrow to return to this index.


18 MAY 2011 - Watonga, Oklahoma, was my initial target for the day. The owner of an antiques store in town told me this water tower may not be around much longer. Photo by Chris Kridler, chriskridler.com
18 MAY 2011 - The dilapidated shack tour continued with this aging structure north of Watonga. Plenty of clouds suggested decent moisture for storms later. Photo by Chris Kridler, chriskridler.com
18 MAY 2011 - Near the shack, I don't think this bug was thrilled to see me. Photo by Chris Kridler, chriskridler.com
18 MAY 2011 - A last shot of the shack and its guardian Queen Anne's Lace. Photo by Chris Kridler, chriskridler.com
18 MAY 2011 - I moved a little north to Fairview, which indeed had a fair view from its higher elevation. Here, though, you just see a mural in the town. Photo by Chris Kridler, chriskridler.com
18 MAY 2011 - Here's a look at some of the convection I could see to the south, around Watonga. Photo by Chris Kridler, chriskridler.com
18 MAY 2011 - And here's some of the convection to the west. The cirrus streaming overhead didn't help with visibility. Photo by Chris Kridler, chriskridler.com
18 MAY 2011 - Since the convection to the south was pathetic, I decided to go west out of Watonga to check out the other area of convection. On the way, I saw this neat horseshoe funnel. Photo (from video) by Chris Kridler, chriskridler.com
18 MAY 2011 - The horseshoe funnel began to lose its perfect shape. Photo by Chris Kridler, chriskridler.com
18 MAY 2011 - A last look, with some perspective, at the horseshoe funnel. Photo by Chris Kridler, chriskridler.com
18 MAY 2011 -This little blob of convection west of Fairview tried to get going. Photo by Chris Kridler, chriskridler.com
18 MAY 2011 - With Marge Simpson "hair," the cloud put up turkey towers. Photo by Chris Kridler, chriskridler.com
18 MAY 2011 - A little farther west, this is the last effort of the turkey tower to break the cap before it dissolved into nothingness. No storms fired in western Oklahoma, making it a perfect bust day for many chasers. Photo by Chris Kridler, chriskridler.com
18 MAY 2011 - A very good barbecue dinner concluded the day at the Smok-Shak in Ingersoll, Oklahoma (2 miles north and west of Cherokee, and maybe 15 miles east of Alva). Photo by Chris Kridler, chriskridler.com
go to the main gallery page | go to storm chasers
go to reports from 2011, 2010, 2009, 2008, 2007, 2006, 2005, 2004, 2003, 2002, 2001, 2000, 1999, 1998, 1997