:: home

:: books

:: gallery

:: data

:: blog

:: kids

:: shop

:: bio

:: help

:: contact

:: ChrisKridler.com




advertisement: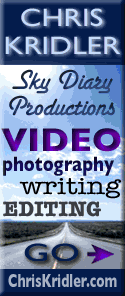 Words/images COPYRIGHT © 2016 by Chris Kridler. All rights reserved. Do not use Sky Diary photos on other Web sites. Personal use as computer wallpaper is permitted, but do not distribute photos. Write for information about purchasing video, photographs or articles. | Frequently asked questions

gallery: May 17, 2011
May 17, 2011: Though I knew the best chance for storms was in northeast Colorado on what was a marginal day, I decided not to go for them, because I wanted to be in good position to chase the next day farther south. So I split the difference, driving from Amarillo to southeast Colorado - then Kansas and Oklahoma - seeing lots of blowing dust and road construction, along with picturesque ruins and a nice sunset. That's four states in one day, and I didn't get near the tornadic storms in northeast Colorado. Share
Click on the thumbnails to see a larger image, or view these photos as a gallery. From the gallery pages, click the "up" arrow to return to this index.


| | | |
| --- | --- | --- |
| | | |
| 17 MAY 2011 - It was a day for drought- and sunset-chasing. Note the blowing dust, seen in southeast Colorado and shot through the car window. Photo by Chris Kridler, chriskridler.com | 17 MAY 2011 - More drought-chasing. Photo by Chris Kridler, chriskridler.com | 17 MAY 2011 - I saw this somewhere near the junction of southwest Kansas and southeast Colorado. Photo by Chris Kridler, chriskridler.com |
| | | |
| 17 MAY 2011 - Fun signs in Liberal, Kansas. Photo by Chris Kridler, chriskridler.com | 17 MAY 2011 - You have to love Liberal, Kansas, home of "Dorothy's House." Photo by Chris Kridler, chriskridler.com | 17 MAY 2011 - This old house in the Oklahoma panhandle looked like a nice foreground for a sunset. Photo by Chris Kridler, chriskridler.com |
| | | |
| 17 MAY 2011 - There goes the sun ... Photo by Chris Kridler, chriskridler.com | 17 MAY 2011 - More of the sunset in the Oklahoma panhandle. Photo by Chris Kridler, chriskridler.com | 17 MAY 2011 - More of the sunset in the Oklahoma panhandle. Photo by Chris Kridler, chriskridler.com |
| | | |
| 17 MAY 2011 - More of the sunset in the Oklahoma panhandle. Photo by Chris Kridler, chriskridler.com | 17 MAY 2011 - More of the sunset in the Oklahoma panhandle. Photo by Chris Kridler, chriskridler.com | 17 MAY 2011 - More of the sunset in the Oklahoma panhandle. Photo by Chris Kridler, chriskridler.com |
go to the main gallery page | go to storm chasers
go to reports from 2011, 2010, 2009, 2008, 2007, 2006, 2005, 2004, 2003, 2002, 2001, 2000, 1999, 1998, 1997