:: home

:: books

:: gallery

:: data

:: blog

:: kids

:: shop

:: bio

:: help

:: contact

:: ChrisKridler.com




advertisement: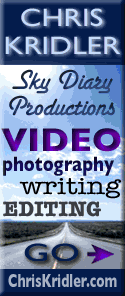 Words/images COPYRIGHT © 2016 by Chris Kridler. All rights reserved. Do not use Sky Diary photos on other Web sites. Personal use as computer wallpaper is permitted, but do not distribute photos. Write for information about purchasing video, photographs or articles. | Frequently asked questions

gallery: May 9, 2011
May 9, 2011: I started the day in O'Neill, Nebraska, and initially thought I would target the Wyoming-South Dakota border west of Rapid City. But after a pleasant photographic detour, I ended up in a chaser convergence in Murdo, S.D., where it appeared the juicy southeast winds might help kick things off. Instead, the line that formed on the Wyoming-S.D. border was about the only game in town. I headed down to the southernmost storm and got there just as it was getting really dark - and as the tornado-warned storm was spitting out huge amounts of lightning. Share
Click on the thumbnails to see a larger image, or view these photos as a gallery. From the gallery pages, click the "up" arrow to return to this index.


| | | |
| --- | --- | --- |
| | | |
| 9 MAY 2011 - I started the day in O'Neill, Nebraska, as did the Cloud 9 Tours group, pictured. Photo by Chris Kridler, chriskridler.com | 9 MAY 2011 - The Element is ready for action in South Dakota. Photo by Chris Kridler, chriskridler.com | 9 MAY 2011 - As clouds formed, I checked out the Dog Ear Buttes near Winner, S.D. Photo by Chris Kridler, chriskridler.com |
| | | |
| 9 MAY 2011 - As clouds formed, I checked out the Dog Ear Buttes near Winner, S.D. Photo by Chris Kridler, chriskridler.com | 9 MAY 2011 - The road leading to the Dog Ear Buttes near Winner, S.D. Photo by Chris Kridler, chriskridler.com | 9 MAY 2011 - Blue sky, black cows. Photo by Chris Kridler, chriskridler.com |
| | | |
| 9 MAY 2011 - South Dakota has so many picturesque, abandoned houses. Photo by Chris Kridler, chriskridler.com | 9 MAY 2011 - At the chaser convergence in Murdo, S.D., Daniel Shaw has a boo-boo - a Super-Glued finger. Photo by Chris Kridler, chriskridler.com | 9 MAY 2011 - Many independent chasers, tour groups and the "Storm Chasers" group ended up awaiting storms in Murdo, S.D. Photo by Chris Kridler, chriskridler.com |
| | | |
| 9 MAY 2011 - Mike Umscheid, Charles Edwards and Jim Leonard at the chaser convergence in Murdo, S.D. Photo by Chris Kridler, chriskridler.com | 9 MAY 2011 - At a kitschy exit west of Murdo, nothing was happening. Rather than surrender to the cap, I headed southwest to intercept the tail end of a line of cells coming out of Wyoming. Photo by Chris Kridler, chriskridler.com | 9 MAY 2011 - It was just getting dark as I ended up in front of a tornado-warned cell heading into Rushville, Nebraska, just south of the South Dakota border. Photo by Chris Kridler, chriskridler.com |
| | | |
| 9 MAY 2011 - The lightning was constant, revealing mammatus and hard convection. Photo by Chris Kridler, chriskridler.com | 9 MAY 2011 - I liked the shape of this bolt. Photo by Chris Kridler, chriskridler.com | 9 MAY 2011 - The storm cell had a nice structure, illuminated by the lightning. Photo by Chris Kridler, chriskridler.com |
| | | |
| 9 MAY 2011 - The lightning zits kept zapping as the storm threatened to overtake my position. Photo by Chris Kridler, chriskridler.com | 9 MAY 2011 - These were shot with a wide-angle lens. Photo by Chris Kridler, chriskridler.com | 9 MAY 2011 - I moved farther down the road as the storm pushed northeast. Photo by Chris Kridler, chriskridler.com |
| | | |
| 9 MAY 2011 - The storm was building its muscles. Photo by Chris Kridler, chriskridler.com | 9 MAY 2011 - Even as the storm appeared to shrink on radar, it had strong convection and prompted another tornado warning. Photo by Chris Kridler, chriskridler.com | 9 MAY 2011 - Use your imagination - the storm looks as if it has its arms up for a fight! Photo by Chris Kridler, chriskridler.com |
go to the main gallery page | go to storm chasers
go to reports from 2011, 2010, 2009, 2008, 2007, 2006, 2005, 2004, 2003, 2002, 2001, 2000, 1999, 1998, 1997