:: home

:: books

:: gallery

:: data

:: blog

:: kids

:: shop

:: bio

:: help

:: contact

:: ChrisKridler.com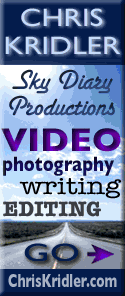 Words/images COPYRIGHT © 2018 by Chris Kridler. All rights reserved. Do not use Sky Diary photos on other Web sites. Personal use as computer wallpaper is permitted, but do not distribute photos. Write for information about purchasing video, photographs or articles. | Frequently asked questions

gallery: June 2, 2010
June 2, 2010: After watching great Plains storms from afar - that is, back home in Florida - since I got back from my storm-chasing trip, it was nice to see lightning here in east-central Florida. These weren't the best storms ever, but they had a few sparks to share before they collapsed. Share

Click on the thumbnails to see a larger image, or view these photos as a gallery. From the gallery pages, click the "up" arrow to return to this index.


I caught this lightning on June 2, 2010, in rural east central Florida, near the intersection of Highways 528 and 520.
Here's another bolt seen from the same area.
This bolt had legs.
Cars on S.R. 520 create the streak at the bottom of the shot.
The storms were weakening but still producing the occasional cloud-to-ground bolt.
Though faint, the crawling strokes here are interesting.
This one seemed to want to climb trees.
Here's a crawler, seen from Titusville, Florida, as the storms collapsed.
go to the main gallery page | go to storm chasers
go to reports from 2010, 2009, 2008, 2007, 2006, 2005, 2004, 2003, 2002, 2001, 2000, 1999, 1998, 1997