:: home

:: books

:: gallery

:: data

:: blog

:: kids

:: shop

:: bio

:: help

:: contact

:: ChrisKridler.com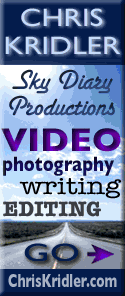 Words/images COPYRIGHT © 2018 by Chris Kridler. All rights reserved. Do not use Sky Diary photos on other Web sites. Personal use as computer wallpaper is permitted, but do not distribute photos. Write for information about purchasing video, photographs or articles. | Frequently asked questions

gallery: May 21, 2010
May 21, 2010: I started the day with Scott McPartland, Dave Lewison, Bill Hark, Mark Robinson and crew, and Dan from Australia; it was a complicated day, with a couple of good areas to play - possibly northeast Colorado and the Texas panhandle. As it became clear that the best area would be much farther north of our stop in Burlington, Colorado, I decided to say farewell to my friends and chase farther south. Unfortunately, despite the prospect of very good chase days ahead, I had to go home to Florida, so it made more sense for me to go south. The chase ended with a whimper, not a bang. Share

Click on the thumbnails to see a larger image, or view these photos as a gallery. From the gallery pages, click the "up" arrow to return to this index.


This beautiful old car was spotted at our group's data stop in Burlington, Colorado.
Dave, Charles Edwards of Cloud 9, Brad and Dayna await action.
Ready for takeoff.
Dan is threatened by Dave's pony.
Late in the afternoon, it appeared the best chances for storms were in eastern Wyoming and the Nebraska panhandle. Knowing I would have trouble driving home in two days from there, I opted instead to chase farther south. A couple of towers were going up in southwest Kansas.
I kept hoping the towers would take root.
There was decent convection at the mid-levels, but the base was paltry.
It was too late to get to storms elsewhere. so I took a few photos of the shrinking tower before sunset and headed east, and home.
go to the main gallery page | go to storm chasers
go to reports from 2010, 2009, 2008, 2007, 2006, 2005, 2004, 2003, 2002, 2001, 2000, 1999, 1998, 1997