:: home

:: books

:: gallery

:: data

:: blog

:: kids

:: shop

:: bio

:: help

:: contact

:: ChrisKridler.com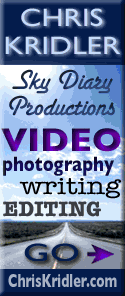 Words/images COPYRIGHT © 2018 by Chris Kridler. All rights reserved. Do not use Sky Diary photos on other Web sites. Personal use as computer wallpaper is permitted, but do not distribute photos. Write for information about purchasing video, photographs or articles. | Frequently asked questions

gallery: May 12, 2010
May 12, 2010: Any hopes for isolated storms today were dashed pretty quickly once the line went up. A few remained discrete for a little while, and we followed one from Alva, Oklahoma, into Kansas, but we missed the rare tornadoes today. I chased with Scott McPartland and Dave Lewison, and Mark Robinson and his crew. Share

Click on the thumbnails to see a larger image, or view these photos as a gallery. From the gallery pages, click the "up" arrow to return to this index.


Not the most encouraging start to our storm chase May 12 - the, uh, classy sign at the joint next to our hotel.
We made a stop at the Twister Museum in Wakita, Oklahoma, on the way to a chase target farther west.
The Twister Museum holds "Dorothy I," the prop from the movie "Twister."
We headed to Alva, Oklahoma, to keep an eye on the front, where we expected storms to fire. One shot up just west of town.
I got separated from the group and stopped north of town to watch what was quickly turning into a line of storms. Briefly, this lowering caught my attention.
I caught up with the crew, and we continued to watch the broken line of severe storms.
The storms we were on became outflow-dominant, but they looked pretty over the green wheat fields.
We decided to follow an interesting storm into Kansas, where others had sparked radar-driven tornado warnings. But the paved road became a dirt one, and Scott got a flat tire.
Brad, Mark, Scott and Dave snapped into action to change the tire before the line of storms could overtake us.
Yes, that's a real hole in the tire.
Dave snaps photos as Mark tightens the lug nuts. Everything is documented when storm chasers are around.
Dave and Scott load the old tire back in place.
Three views, left to right, of an outflow feature on the weakening storms.
Our caravan lines up to watch the outflow boundary in motion.
Mark films the outflow feature.
More outflow-dominant yet pretty features.
The cows were unimpressed.
But even if the cows were unimpressed, the dying storm was impressive.
We missed the storm that dropped a tornado near Elk City but checked it out after dark. This is my lame attempt at a lightning photo before the rain came to our location near Watonga, Oklahoma. I found a hail shelter (gas station) in town, heard the tornado siren, but saw nothing as it clearly weakened on radar.
go to the main gallery page | go to storm chasers
go to reports from 2010, 2009, 2008, 2007, 2006, 2005, 2004, 2003, 2002, 2001, 2000, 1999, 1998, 1997