:: home

:: books

:: gallery

:: data

:: blog

:: kids

:: shop

:: bio

:: help

:: contact

:: ChrisKridler.com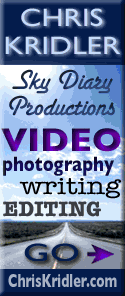 Words/images COPYRIGHT © 2018 by Chris Kridler. All rights reserved. Do not use Sky Diary photos on other Web sites. Personal use as computer wallpaper is permitted, but do not distribute photos. Write for information about purchasing video, photographs or articles. | Frequently asked questions

storm gallery: June 5, 2008
June 5, 2008: I couldn't resist one more chance to chase tornadoes in the Plains, so after some frustrating flight cancellations, I managed to get out there the morning of June 5, when the Storm Prediction Center was issuing a high risk and anticipating a possible tornado outbreak. I'd also anticipated a day like that, which is why I came out in the first place, but the outbreak didn't materialize. Even local newspapers had headlines that said the "dire forecast" didn't come about. I drove from Kansas City into Nebraska and back to Kansas anyway.

Click on the thumbnails to see a larger image, or view these photos as a gallery. From the gallery pages, click the "up" arrow to return to this index.


This storm near Superior, Nebraska, produced a tornado or two in an unlikely spot in western Kansas before I got on it.
I caught the storm in its outflow phase, producing a pretty shelf cloud.
Once again, with wildflowers.
Getting closer ...
And closer ...
As the storm's remnants retreated, this tree guarded a lonely road.
There goes the storm.
Parting shot: Even little updrafts appeared to be rotating. But the magic wasn't there.
go to the main gallery page | go to storm chasers
go to reports from 2007, 2006, 2005, 2004, 2003, 2002, 2001, 2000, 1999, 1998, 1997