:: home

:: books

:: gallery

:: data

:: blog

:: kids

:: shop

:: bio

:: help

:: contact

:: ChrisKridler.com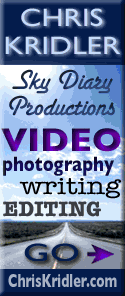 Words/images COPYRIGHT © 2018 by Chris Kridler. All rights reserved. Do not use Sky Diary photos on other Web sites. Personal use as computer wallpaper is permitted, but do not distribute photos. Write for information about purchasing video, photographs or articles. | Frequently asked questions

storm gallery: May 5, 2008
May 5, 2008: I thought storms would fire farther east than they did on this day, near the New Mexico-Texas border. Instead, a cell west of Roswell, New Mexico - farther west than I'd hoped - sluggishly brewed as I tried hard to reach it. Once I did get in the area, it was picking up speed and heading northeast on a terrible road network.

Click on the thumbnails to see a larger image, or view these photos as a gallery. From the gallery pages, click the "up" arrow to return to this index.


May 5, I targeted the western Texas panhandle, hoping storms would move there out of New Mexico. I ended up driving all the way to Roswell, New Mexico, to see this storm.
The storm had nice layered features; if I had arrived a bit earlier, I would have had a better view of its nice shape.
Lots of hailstones littered the sides of the road. Many were 2 inches in diameter.
Northeast of Roswell, very large hailstones littered the sides of the road, and I saw many vehicles with smashed windshields. Given the intensity of the storm as seen on radar and the stones I saw, I'm sure there were at least baseballs in the storm.
Here are more hailstones from the storm. Remember, they'd been melting for several minutes, and there were lots of them.
The storm that formed behind the hail-filled beast had a rotating wall cloud northeast of Roswell.
The storm that formed behind the hail-filled beast had a rotating wall cloud northeast of Roswell, with suggestive lowerings like this one. Was it a funnel?
The secondary storm had an impressive white hail shaft. Knowing what its sister storm did, as soon as hail started falling on the road, I turned around and went the other way. I didn't want to be caught with no escape route.
I drove east out of Roswell, the way I had come, and looked back toward the sunset and more storms forming to the west.
Again, the sunset and western storms, with a different exposure.
Meanwhile, the beast - tracking east, to my north - was evolving into a mean cluster.
Another sunset view. I love the colors in the clouds.
Further east of Roswell, I couldn't believe what a good view I got of the south end of the massive storm cluster (looking north in this shot). Bill Hark gave me a phone update to tell me what a nasty hail core it still had.
Here's a similar shot, with lightning setting the precipitation aglow.
A time exposure in near-darkness shows the shape of the southern component of the storm cluster.
In far eastern New Mexico, I stopped to get a few time exposures of the storm. Check out the layers. It was an ominous creature.
go to the main gallery page | go to storm chasers
go to reports from 2007, 2006, 2005, 2004, 2003, 2002, 2001, 2000, 1999, 1998, 1997