:: home

:: books

:: gallery

:: data

:: blog

:: kids

:: shop

:: bio

:: help

:: contact

:: ChrisKridler.com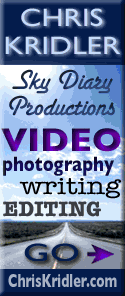 Words/images COPYRIGHT © 2018 by Chris Kridler. All rights reserved. Do not use Sky Diary photos on other Web sites. Personal use as computer wallpaper is permitted, but do not distribute photos. Write for information about purchasing video, photographs or articles. | Frequently asked questions

storm gallery: July 22, 2007
To see a larger version of a photo, click on its thumbnail image below. Then, to get back to this page, hit the "back" button on your browser.
After seeing some hot lightning and minor flooding, but not terribly photogenic storms on July 21, Cheryl Chang and I pursued the first storms on July 22. The best part of the chase was traveling through what I call Florida's tropical prairie, which is reminiscent of the Plains. The first view is looking west from Lone Cabbage Fish Camp west of Cocoa; the others are from Osceola County as the storm (really, a line of storms) developed outflowish features. Digital images.
Here's a look at the outflow boundary and development along it (and Cheryl) as the detached shelf slid south. Digital images.
As the storms wimped out, I got a look at tadpoles at the mouth of a drainage pipe (trust me, they're there) and the anvil of the storm that started the unproductive boundary. Digital images.
2007 reports and photos
go to the main gallery page | go to storm chasers
go to reports from 2006, 2005, 2004, 2003, 2002, 2001, 2000, 1999, 1998, 1997