:: home

:: books

:: gallery

:: data

:: blog

:: kids

:: shop

:: bio

:: help

:: contact

:: ChrisKridler.com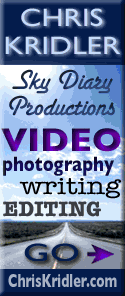 Words/images COPYRIGHT © 2018 by Chris Kridler. All rights reserved. Do not use Sky Diary photos on other Web sites. Personal use as computer wallpaper is permitted, but do not distribute photos. Write for information about purchasing video, photographs or articles. | Frequently asked questions

storm gallery: July 15, 2007
To see a larger version of a photo, click on its thumbnail image below. Then, to get back to this page, hit the "back" button on your browser.
On July 15, Cheryl Chang and I went out after a severe storm with a tornado warning on it, but we knew we couldn't catch it. That's it on the right in the first couple of pictures, as seen through the car window, by the Cocoa, Florida, water tower. Instead, we opted to get in front of the strong and picturesque outflow boundary. Digital images.
From the car and from the S.R. 528 causeway, here are views of the shelf cloud as the storm(s) gusted out. Digital images.
And some more shots from S.R. 528 by Cape Canaveral show the scope and evolution of the shelf cloud. Digital images.
| Here's a last look at the shelf cloud and northern storm, along with suggestive lowerings near Kennedy Space Center, before we headed south. Digital image. | |
| --- | --- |
We went south to get ahead of the storms, which were gusting out in earnest. Here's a view from Cocoa Beach, where manatees were frolicking in the unusually big waves on the Banana River. Digital images.
As the northern line of storms seemed to lose all its punch, we saw this nice storm forming in West Melbourne. It showed weak rotation and produced amazing lightning. The shot at lower left I included as a curiosity; it's one frame of video, but the lightning was moving so fast, it looks like two merged pictures. Weird. Digital and video images.
| | |
| --- | --- |
| We followed the Melbourne storm south into Palm Bay, where the lightning was incredibly intense. Image from video. | The storm turned into a rain bomb, so we headed back north to Rockledge and got a look at the soft mammatus clouds and the sunset, as seen over the railroad tracks. Digital image. |
A gorgeous double rainbow capped off the day, as seen by Harvey's Groves, the citrus institution on U.S. 1. The last image looks again to the west, where rain curtains were lit up by the sunset. It looked like the sky was on fire. Digital images.
2007 reports and photos
go to the main gallery page | go to storm chasers
go to reports from 2006, 2005, 2004, 2003, 2002, 2001, 2000, 1999, 1998, 1997