:: home

:: books

:: gallery

:: data

:: blog

:: kids

:: shop

:: bio

:: help

:: contact

:: ChrisKridler.com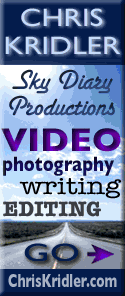 Words/images COPYRIGHT © 2018 by Chris Kridler. All rights reserved. Do not use Sky Diary photos on other Web sites. Personal use as computer wallpaper is permitted, but do not distribute photos. Write for information about purchasing video, photographs or articles. | Frequently asked questions

storm gallery: July 14, 2007
To see a larger version of a photo, click on its thumbnail image below. Then, to get back to this page, hit the "back" button on your browser.
On July 14, Cheryl Chang and I saw multiple shelf clouds and eventually a funnel cloud. Here's the first shelf cloud we saw, over the Indian River. Digital images.
Here are a couple more shots of that shelf - in one, little dog Wally looks out the car window as Cheryl takes his picture. Digital images.
Along U.S. 1 in Rockledge, we saw the collision of storms' outflow boundaries before our eyes. The shelf clouds intersected and created fascinating interactions between the clouds, including some rotation and interesting features. Digital images.
| As we drove onto Merritt Island and neared Merritt Square Mall, we were shocked to see a funnel cloud. It looked very conical before I got my video camera going and got these shots, as it elongated and then dissipated. Wow! Images from video. | |
| --- | --- |
| | |
2007 reports and photos
go to the main gallery page | go to storm chasers
go to reports from 2006, 2005, 2004, 2003, 2002, 2001, 2000, 1999, 1998, 1997