:: home

:: books

:: gallery

:: data

:: blog

:: kids

:: shop

:: bio

:: help

:: contact

:: ChrisKridler.com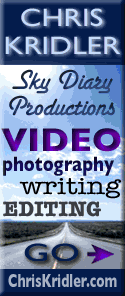 Words/images COPYRIGHT © 2018 by Chris Kridler. All rights reserved. Do not use Sky Diary photos on other Web sites. Personal use as computer wallpaper is permitted, but do not distribute photos. Write for information about purchasing video, photographs or articles. | Frequently asked questions

storm gallery: June 10-11, 2007
To see a larger version of a photo, just click on its thumbnail image below. Then, to get back to this page, hit the "back" button on your browser.
June 10 saw some severe storms in Brevard County, Florida, but by the time Cheryl Chang and I saw them, they had weakened. Still, for Florida, we saw pretty nice gust front features. Digital images.
A decent anvil (for Florida) as well as mammatus showed the storms had some spark. Digital images.
On June 11, I got a few lightning bolts out of the storms on Florida's East Coast. I only wished they had kept sparking after dark. More storms followed on June 12, but mostly, my car just got a good washing. Digital images.
2007 reports and photos
go to the main gallery page | go to storm chasers
go to reports from 2006, 2005, 2004, 2003, 2002, 2001, 2000, 1999, 1998, 1997