:: home

:: books

:: gallery

:: data

:: blog

:: kids

:: shop

:: bio

:: help

:: contact

:: ChrisKridler.com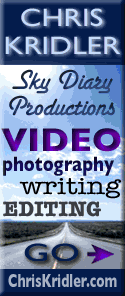 Words/images COPYRIGHT © 2018 by Chris Kridler. All rights reserved. Do not use Sky Diary photos on other Web sites. Personal use as computer wallpaper is permitted, but do not distribute photos. Write for information about purchasing video, photographs or articles. | Frequently asked questions

storm gallery: May 8, 2007
To see a larger version of a photo, just click on its thumbnail image below. Then, to get back to this page, hit the "back" button on your browser.
We started the day in Abilene and ended up there, too. But first there was a stop in Sterling City, Texas, as we waited for either isolated storms to fire or the squall line to reach us. At the table are Dave Lewison, Mike Theiss, Dave Patrick and Brad Riley. Lastly, a souvenir armadillo sits in Scott McPartland's car. Digital images.
Once again, the most exciting thing to do while waiting was to photograph wildflowers, which are glorious in Texas this year. Plus, there were bugs. Digital images.
Here comes the squall line, followed by a horrendous drive through some of the most intense rain I've seen as we tried to get east of it. Digital images.
Out the other side of the squall line, just west of Abilene, we got another look at the shelf cloud. Digital images.
Here's a last look at the line, and a dead end at the Abilene airport. Note the green in the last picture where a heavy core of precipitation was falling. Digital images.
2007 reports and photos
go to the main gallery page | go to storm chasers
go to reports from 2006, 2005, 2004, 2003, 2002, 2001, 2000, 1999, 1998, 1997