:: home

:: books

:: gallery

:: data

:: blog

:: kids

:: shop

:: bio

:: help

:: contact

:: ChrisKridler.com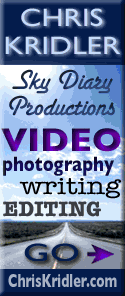 Words/images COPYRIGHT © 2018 by Chris Kridler. All rights reserved. Do not use Sky Diary photos on other Web sites. Personal use as computer wallpaper is permitted, but do not distribute photos. Write for information about purchasing video, photographs or articles. | Frequently asked questions

storm gallery: May 7, 2007
To see a larger version of a photo, just click on its thumbnail image below. Then, to get back to this page, hit the "back" button on your browser.
Any day that begins with a Texas-shaped waffle at a Childress hotel should be good. However, the chances for severe storms were slim and inhibited by high clouds, so these wildflowers were about the only photo opp available. They're gorgeous in Texas in the spring. Digital images.
Mike Theiss points gratuitously as Scott McPartland laughs while we wait for something to happen in Throckmorton, Texas. Dave Lewison was fascinated by cacti, while I liked this wall. Digital images.
Dave liked the pioneer lady. And we waited (while I played with my camera's black-and-white mode). Digital images.
Outside of Throckmorton, we kept an eye on a distant line of weakly bubbling cumulus clouds, while Mike walked his dog, Draco. Digital images.
Oh, no - looks of disgust as Mike Theiss, Dave Patrick, Dave Lewison and Brad Riley look at the radar and see a storm to the east, way too far to reach. Time to give it up and drive to Abilene for the night, to get into position for tomorrow. Digital images.
2007 reports and photos
go to the main gallery page | go to storm chasers
go to reports from 2006, 2005, 2004, 2003, 2002, 2001, 2000, 1999, 1998, 1997