:: home

:: books

:: gallery

:: data

:: blog

:: kids

:: shop

:: bio

:: help

:: contact

:: ChrisKridler.com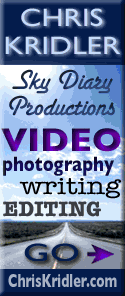 Words/images COPYRIGHT © 2018 by Chris Kridler. All rights reserved. Do not use Sky Diary photos on other Web sites. Personal use as computer wallpaper is permitted, but do not distribute photos. Write for information about purchasing video, photographs or articles. | Frequently asked questions

storm gallery: May 5, 2007
To see a larger version of a photo, just click on its thumbnail image below. Then, to get back to this page, hit the "back" button on your browser.
When the Storm Prediction Center calls for a high-risk Armageddon day, and the storms speed north at 45 mph or so, I know it's going to be a tough one. It was. Though I was on many storms at initiation and chased some, many were uncatchable given the terrible road network. I chased solo this day, with weather radio as my only data after the initial forecast. The day began with these scenic shots in northern Oklahoma, near Freedom, Oklahoma. Digital images.
Something's sprouting... a storm! This one, west of Buffalo, went severe. Digital images.
I chased the storm into Kansas, where nothing looked terribly good. It was early in the day, though. Rather than wait there for more mature storms later (and the chaser traffic jam), I decided to head south to see them fire off the dryline. Check out the wind turbines on route 183 in Oklahoma. And a new storm! Digital images.
I liked the look of this storm and others that followed (isn't that second one cool?), but I didn't think I could catch them as they screamed into Kansas. Perhaps I should have tried; I might've caught a tornado. Digital images.
I thought I'd head to I-40, where storms had yet to crank. And, once again, if I had, maybe I'd have had a shot at the Sweetwater tornado. Instead I was seduced by this storm, and rightly so. It developed a rotating wall cloud. Digital images.
Here are more shots. A tasty wall cloud indeed. Several chasers latched onto the storm. And then it seemed to fizzle and screamed north. I chose not to chase it, taking the risk it might produce a tornado farther north. In the end, I drove some more big circles and gave up for the night, especially given I had no radar info to keep me safe after dark. Bill Hark gave me a briefing to aid my escape out of the storm zone, where cells kept training over the same areas. Digital images.
2007 reports and photos
go to the main gallery page | go to storm chasers
go to reports from 2006, 2005, 2004, 2003, 2002, 2001, 2000, 1999, 1998, 1997