:: home

:: books

:: gallery

:: data

:: blog

:: kids

:: shop

:: bio

:: help

:: contact

:: ChrisKridler.com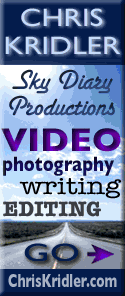 Words/images COPYRIGHT © 2018 by Chris Kridler. All rights reserved. Do not use Sky Diary photos on other Web sites. Personal use as computer wallpaper is permitted, but do not distribute photos. Write for information about purchasing video, photographs or articles. | Frequently asked questions

storm gallery: May 4, 2007
To see a larger version of a photo, just click on its thumbnail image below. Then, to get back to this page, hit the "back" button on your browser.
Mike Theiss makes a phone call east of Pratt, Kansas, where I started my chase May 4. I met up with him and Brad Riley in this area, which was primed for severe storms. Most occurred in this area at or after dark, including the devastating Greensburg tornado, so while there was light, we boogied south to Oklahoma to catch storms that had already produced a tornado. In the second image, you see an appendage from one of the split storms. I kind of wish I'd pursued it, but we headed farther south, to where the initially powerful storms were dying. Digital images.
Here are more shots of the cells (that tiny person is Mike) and the sunset. Digital images.
And more sunset shots ... Digital images.
... and a last look. Digital image.
2007 reports and photos
go to the main gallery page | go to storm chasers
go to reports from 2006, 2005, 2004, 2003, 2002, 2001, 2000, 1999, 1998, 1997