:: home

:: books

:: gallery

:: data

:: blog

:: kids

:: shop

:: bio

:: help

:: contact

:: ChrisKridler.com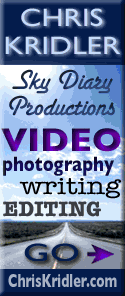 Words/images COPYRIGHT © 2018 by Chris Kridler. All rights reserved. Do not use Sky Diary photos on other Web sites. Personal use as computer wallpaper is permitted, but do not distribute photos. Write for information about purchasing video, photographs or articles. | Frequently asked questions

storm gallery: March 3-4, 2007
To see a larger version of a photo, just click on its thumbnail image below. Then, to get back to this page, hit the "back" button on your browser.
Jim Leonard hosted a storm chaser party in the Florida Keys on March 3, and it spilled into March 4. Here, on March 3, a group of chasers photographs a beach critter, Cheryl Chang walks on the sand, and Dave Lewison and Jim Leonard go wading. Digital images.
Cheryl and Dave went wading, George Jenkins went fishing, and the rest of the chaser party watched from the Islamorada shore. Digital images.
In Jim's place, Bill Hark took photos, Jim showed hurricane video, and the crowd ate the bounty of Jim's grill. Yum. Digital images.
A jellyfish was a popular photographic subject at the party, and the trees were gorgeous. Digital images.
The next day, March 4, some of the guests went touring, seeing mangroves, a Key deer and the alleged southernmost point in the United States at Key West (that's the New Yorkers). Digital images.
The fence near the southernmost point provided interesting geometries. Digital images.
Lunch gave Cecilia and Scott a taste of Blue Heaven in Key West. George enjoyed the beer, and I loved the gate with its storm clouds. Digital images.
This stormy sky that Sunday night was about the only real weather we saw, other than wind. Digital images.
2007 reports and photos
go to the main gallery page | go to storm chasers
go to reports from 2006, 2005, 2004, 2003, 2002, 2001, 2000, 1999, 1998, 1997