:: home

:: books

:: gallery

:: data

:: blog

:: kids

:: shop

:: bio

:: help

:: contact

:: ChrisKridler.com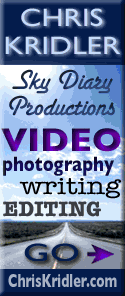 Words/images COPYRIGHT © 2018 by Chris Kridler. All rights reserved. Do not use Sky Diary photos on other Web sites. Personal use as computer wallpaper is permitted, but do not distribute photos. Write for information about purchasing video, photographs or articles. | Frequently asked questions

storm gallery: Feb. 13-26, 2007
To see a larger version of a photo, just click on its thumbnail image below. Then, to get back to this page, hit the "back" button on your browser.
Feb. 13 brought fast-moving storms across the Space Coast. As they sped out to sea, this spectacular double rainbow formed, as seen over a church and the Indian River Lagoon. Digital images.
Here are a couple more shots of the rainbow over the Indian River Lagoon. Digital images.
Feb. 26 produced a violent storm that raked Kennedy Space Center and headed out to sea, which is about when I saw it. Its appearance was unusual; the whole top looked like a pileus cap. This storm caused hail damage to space shuttle Atlantis' external fuel tank (the last photo is from NASA - see a bigger picture and a closeup). Digital images.
2007 reports and photos
go to the main gallery page | go to storm chasers
go to reports from 2006, 2005, 2004, 2003, 2002, 2001, 2000, 1999, 1998, 1997