:: home

:: books

:: gallery

:: data

:: blog

:: kids

:: shop

:: bio

:: help

:: contact

:: ChrisKridler.com




advertisement: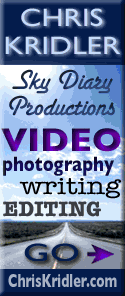 Words/images COPYRIGHT © 2016 by Chris Kridler. All rights reserved. Do not use Sky Diary photos on other Web sites. Personal use as computer wallpaper is permitted, but do not distribute photos. Write for information about purchasing video, photographs or articles. | Frequently asked questions

storm gallery: 2006
Here are some images from the 2006 storm chase.


January 13: Rotating storms in Florida

May 8: A line of storms in Kansas, from the pretty side


May 9: Wicked rotation, lovely mammatus and spectacular lightning in Oklahoma

May 10: A long, long drive to Mississippi to get wet

May 11: Chaser convergence in Mississippi as the ridge arrives

May 26: Intense storms and a "smokenado" in central Florida

September 2: A dramatic shelf cloud on Florida's Space Coast


Read the diary from this year's chase

This Cocoa Beach restaurant says "we don't run from hurricanes, we drink um."