:: home

:: books

:: gallery

:: data

:: blog

:: kids

:: shop

:: bio

:: help

:: contact

:: ChrisKridler.com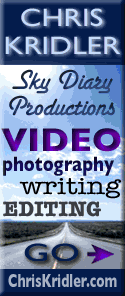 Words/images COPYRIGHT © 2018 by Chris Kridler. All rights reserved. Do not use Sky Diary photos on other Web sites. Personal use as computer wallpaper is permitted, but do not distribute photos. Write for information about purchasing video, photographs or articles. | Frequently asked questions

storm gallery: May 12, 2005
To see a larger version of a photo, just click on its thumbnail image below. Then, to get back to this page, hit the "back" button on your browser.
May 12, our group split up, leaving a caravan of Dave Lewison, Scott McPartland and Pete Ventre in one car; Dave Patrick and Kristy Randall in another; and myself in mine. Though we had a long drive from Garden City, Kansas, we targeted the Lubbock, Texas, area with the idea we might chase something farther north. First, we got on a storm south of Silverton and east of Lone Star. It tried to produce a tornado. Then a second storm, moving in its wake, had some spinups in its rear-flank downdraft. Digital images.
The second storm seemed a lot more serious about producing a tornado, first forming a nice rotating wall cloud and then this tornado, which rapidly grew. Digital images.
Here are more views of the tornado. Part of our group tried to slip around its back side, but power poles were down, and we ended up caught in huge hail (baseballs and softballs) with disastrous results. See the video. Video images.
My poor car. This is the second time I've had a car go through a hail-induced trauma; the last time was four years ago. Here's a sampling of the damage. The last picture shows Kristy Randall holding some of the hail we experienced; photo courtesy of David Patrick. Digital images.
The day ended quietly for us with a nice view of mammatus as we got west and north of the storms and out of their way, since our cars couldn't take any more damage or even rain, given broken windows and such. Yet tornado warnings continued. Digital image.





Diary from this year's chase | 2005 reports and photos





go to the main gallery page | go to storm chasers
go to reports from 2005, 2004, 2003, 2002, 2001, 2000, 1999, 1998, 1997