:: home

:: books

:: gallery

:: data

:: blog

:: kids

:: shop

:: bio

:: help

:: contact

:: ChrisKridler.com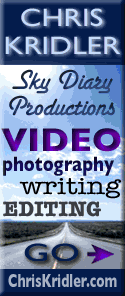 Words/images COPYRIGHT © 2018 by Chris Kridler. All rights reserved. Do not use Sky Diary photos on other Web sites. Personal use as computer wallpaper is permitted, but do not distribute photos. Write for information about purchasing video, photographs or articles. | Frequently asked questions

storm gallery: May 11, 2005
To see a larger version of a photo, just click on its thumbnail image below. Then, to get back to this page, hit the "back" button on your browser.
May 11, we targeted northwest Kansas and were suckered by storms that screamed north over the cold front into Nebraska. We were behind the game the whole time. Mark Robinson checked his anemometer as we thought about what to do. Digital images.
We gave up and went south, seeing pretty storms line up around Garden City. We didn't get to the big tornado of the day, but we did see some nice lightning. Digital images.
More lightning north of Garden City redeemed an otherwise mediocre chase day. Digital images.




Diary from this year's chase | 2005 reports and photos





go to the main gallery page | go to storm chasers
go to reports from 2005, 2004, 2003, 2002, 2001, 2000, 1999, 1998, 1997